Walmart may always offer products at low costs, but that doesn't mean you can't find expensive items for sale!
You might even be surprised to see that Walmart sells some of these expensive items.
Keep reading to learn what some of the most expensive items at Walmart are!
What Is the Most Expensive Item at Walmart?
The most expensive items found at Walmart often include gaming computers, smart TVs, cameras, workout machines, above-ground pools, and more. Often, Walmart.com will have pricier, more expensive items than what can be found in store! Customers can still find expensive items in-store, however.
---
KEY TAKEAWAYS
Walmart's most expensive items often include various electronics, such as smart TVs or gaming computers, as well as above-ground pools, workout machines, and more.
Walmart's online store often has pricier options for sale than what they sell in-store.
Customers can find expensive products in-store, though they're often kept locked away.
---
Below, we list some of the 10 most expensive items you can find and buy at Walmart. This list includes both online and in-store items!
1. Gaming Computers
All gamers know that gaming PCs can become quite costly — especially if you want a good, high-quality one. Walmart knows that some of the best gaming computers have a higher price tag.
As a result, some of the most expensive items for sale at Walmart are gaming computers! For example, this IPASON Gaming Desktop PC sells on Walmart.com for $1,999!
Walmart items in-store can often be cheaper. So, let's look at another option. This ASUS Gaming PC, often found in various Walmart stores, sells for $899. Cheaper than the PC above, but still expensive!
2. Above Ground Pools
When it starts to get hot outside, the above-ground pool deals start coming out. Often, Walmart offers the best deals on these pools online. But these pools are still expensive!
For example, this Lake Effect Lifestyle Above Ground Pool sells online for $2,698.96. Obviously, many may consider this a great deal for the item. But it's still considered one of the more expensive items you can buy at Walmart!
3. Smart TVs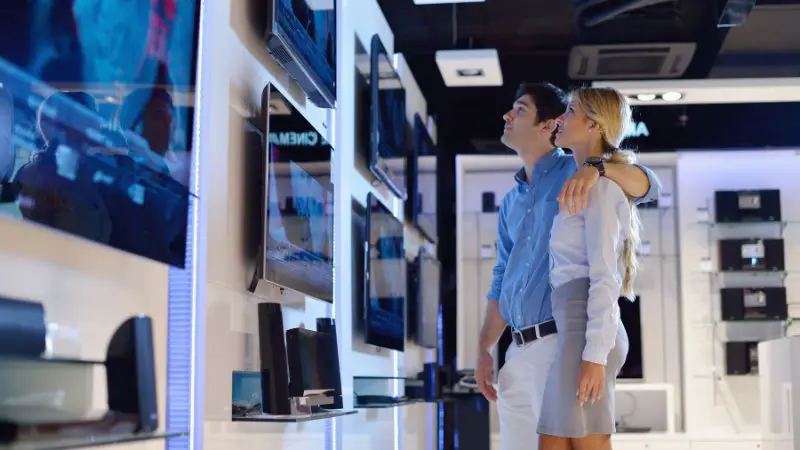 Smart TVs can become quite expensive, even though Walmart sells a lot of cheaper options. If you want a very expensive, very nice smart TV, why not head over to Walmart? This Element Electronics Smart TV sells for $1,298 on Walmart.com.
In the store, you might find some cheaper options. For example, customers can often find this onn Smart TV in stores. It currently goes for $798 — cheaper than the Element but still quite expensive!
4. Cameras
Walmart sells a variety of different cameras in-store and online. We all know how expensive good cameras can get!
So, it's no surprise to see that cameras can often be the most expensive items at Walmart. For example, online you can find a Leica camera that goes for a whopping $4,904.95.
In-store, cheaper (yet still expensive!) cameras can be found. This Canon camera often appears in Walmart stores for $599.
5. Workout Machines
Walmart varies on whether they sell workout machines or not. Some stores do; others don't. However, workout machines often find themselves on lists of the most expensive items sold at Walmart!
Let's look at one example. Online, Walmart currently sells this ab machine for $2,899!
6. Fine Jewelry
Walmart sells a lot of fine jewelry, such as necklaces. Often, this jewelry can quickly become quite expensive. So, don't just assume that Walmart only sells cheap jewelry. This proves they don't!
Online, they sell this diamond necklace for $2,695. Meanwhile, in-store, cheaper necklaces sell for a bit less. However, this chain necklace sold in stores sells for $598!
7. Furniture Sets
Many customers flock to Walmart for low-cost furniture sets. But they also sell expensive furniture sets (at least, compared to their other options).
This online dining table set sells for $1,796. In comparison, an average dining table set sold in-store at Walmart sells for much cheaper. For example, this dining set sells for $209 in stores — a great bargain!
8. Pool Tables
Believe it or not, you can find a lot of different pool tables for sale at Walmart! Many of these tend to come with a higher price tag, naturally. As a result, they often become some of the most expensive items for sale at Walmart.
This pool table currently sells for $4,995 on Walmart.com, making it one of the more expensive items found!
9. Sculptures
You may not think of Walmart as the place to buy fine art or sculptures. But online at Walmart, you can find and buy expensive sculptures indeed!
This Krishna Idol Statue currently sells for $1,995 on Walmart's website!
10. Electric Fireplaces
Another expensive item at Walmart to buy? An electric fireplace! While Walmart sells a variety of these online at different price points, this one sells for $3,569.99!