Amazon is the world's largest online marketplace, and part of the appeal of the site is that it is available almost everywhere! Accessing your Amazon account in a foreign country or having your items shipped abroad is easy, as long as Amazon works within that country.
So let's answer the important questions: Does Amazon send to Germany? And Can I order from Amazon in the US and deliver to Germany?
Does Amazon Ship to Germany?
Amazon does ship to Germany. You can either sign in with your US account while in Germany and have it sent to your current location, or you can order items from the US on Amazon and have them shipped internationally to Germany.
In this article, we are going to find out exactly how shipping to Germany works with an American Amazon account, as well as how to order from Amazon in Germany, and so much more. So keep reading; we have everything you need to know right here!
How Long Does it Take Amazon to Ship to Germany?
In order to answer how long it takes Amazon to ship to Germany, it's important to note that there are essentially two ways to order an item to be shipped to Germany: You can select a product that is already in Germany or at least in Europe, or you can opt for international shipping for a product from the USA.
If you sign into Amazon while in Germany and change your delivery address to a German address, Amazon will only show products that are able to be shipped to that address, which makes your life a bit easier! These items will likely be delivered within the standard 3-5 business day window that Amazon offers.
However, if you order an item while in the US to be delivered to Germany through international shipping, Amazon states that the product will be delivered within 15 days for standard shipping and within 5 days if you pay extra for priority shipping.
Does Amazon Ship Free to Germany?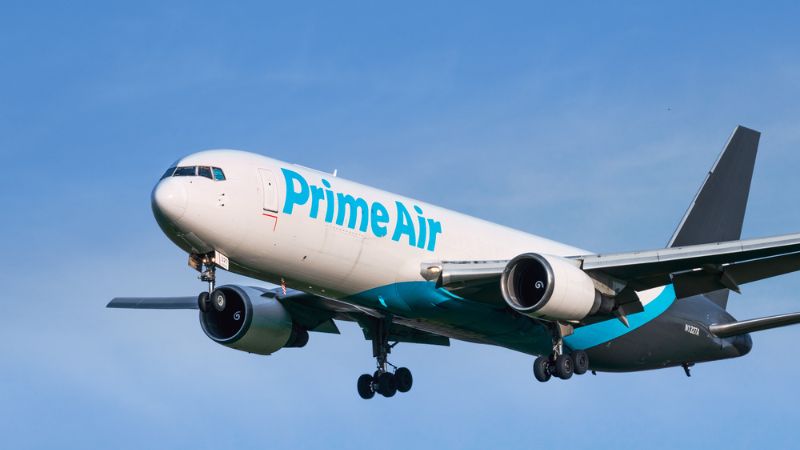 If you have an Amazon Prime account, typically, you receive free shipping on almost every item ordered. And luckily, if you sign into your Amazon Prime account on Amazon.de (the German site), you can still get free shipping to German addresses.
On the other hand, even if you have Amazon Prime, if you opt to ship an Amazon item overseas to Germany from the USA, you will have to pay a delivery fee. How much it is will depend on the item itself, as well as the income tax that Germany will require due to the type of item.
Does Amazon Prime US Work in Germany?
Having Amazon Prime means that you get quite a few great benefits, including Amazon Prime Video, Amazon Music, two-day free shipping, Amazon Fresh, and so much more!
If you are visiting or have recently moved to Germany, of course, you will want to know if your Amazon Prime will work in Germany.
The answer is yes, Amazon Prime does work in Germany; however, it's important to note that some of the options on the streaming sites will be different when your smart device logs on in Germany.
You will also still receive free next-day or two-day delivery to your German address with your Prime membership.
All you need to do to continue using your Amazon Prime in Germany is to open Amazon.de and sign in with your personal information!
How Do I Order From Amazon in Germany?
If you are in Germany and want to ensure your purchases get shipped to Germany, the process is incredibly simple.
To order from Amazon in Germany, just follow these directions:
Open Amazon.de and sign in with your Amazon account information.
If you do not read German, translate the page with the translation icon on the address bar on your web browser.
Click on the Accounts & Lists menu on the top right corner of the page.
Select Your Accounts.
Under the Ordering & Shopping Preferences menu, click Your Addresses.
Select Add New Address.
Enter your German address.
Click Set As Default.
Now, Amazon will only show you items that are available to be delivered to your German address, and all you need to do is select the items you want to order and follow the same steps, as usual, to buy the product with your preferred payment method and select your delivery preference. Then it will arrive at your German address!
What Is the Cheapest Way to Ship to Germany?
As you now know, there are two ways to ship to Germany, either through Amazon's international shipping option or by ordering items that are already in or near Germany.
It is probably not surprising that the cheapest way to ship to Germany is to order an item that is coming from Germany or another European country. Because Germany is part of the European Union, they do not require a tax to be paid on items shipped from other countries in the EU, minimizing your fee for the shipment.
While you can order an item from the American Amazon to be shipped to Germany, it will certainly cost more money as it has to be shipped internationally, and you will most likely have to pay an import tax depending on the item.
Is Amazon Popular in Germany?
Amazon is certainly America's favorite online marketplace, but you may be wondering if it's just as popular in Germany.
Amazon is incredibly popular in Germany! It is the country's leading e-commerce site, and over 17 million German residents are Prime members.
And it is only becoming more favored by German citizens and residents; every year, more and more people in Germany are using Amazon as their preferred online shopping site.
Can I Get Amazon Germany in English?
If you have signed on to your Amazon account in Germany on Amazon.de, you will be happy to know that you can easily get the site in English, so you actually know what you're ordering!
There are two ways to get Amazon Germany in English: You can translate the page by clicking the translation icon in the address bar on your web browser, or you can simply click the flag on the site next to Amazon's search bar to change the language to English.
Once you have changed the language to English once, Amazon should remember your preference, and any time you sign onto German Amazon, it will hopefully be in English.
Conclusion
Amazon absolutely ships to Germany. You can either have items from Germany sent to a German address, whether you are in Germany or another country, or you can send Amazon products internationally from the USA for a slightly higher shipping fee.