Amazon, the world's largest online retailer, delivers to over 100 countries around the globe! It's fairly safe to assume that most addresses are available for Amazon shipments; the site does not deliver absolutely everywhere.
Now, you might be wondering: Does Amazon deliver to hospitals, and can Amazon deliver to patients in hospitals?
Does Amazon Deliver to Hospitals?
Amazon does deliver to hospitals and even to patients as long as the specific hospital doesn't have any restrictions. Certain items may not be able to be delivered to patients, so it's important to check with the hospital management before placing your order.
In this article, we are going to discuss everything there is to know about Amazon's hospital delivery process, standard hospital restrictions, and even how much it will cost to have Amazon deliver to a patient in a hospital. Everything you need to know is right here!
Can I Order Amazon to a Hospital Room?
Whether you are a patient in a hospital or a loved one of a patient in a hospital, you will certainly want to know how to order Amazon to a hospital room.
The first step in getting an Amazon order delivered to a hospital room is to contact the hospital and ensure they allow Amazon deliveries and any restrictions they may have.
Once you have ensured they accept Amazon deliveries and which items they will and will not allow to be delivered, the next step is to ensure you enter the correct address of the hospital and the patient's room information in the shipping address.
The best way to make sure the order gets to the right room is to put as much information as possible such as including the ward the room is in, i.e., delivery ward, ICU, etc.
It's important to understand that the delivery person will not actually be able to enter the hospital. Amazon deliveries to hospitals will be left at the front desk, and hospital staff or volunteers will be responsible for delivering them to the rooms.
While this process may take slightly longer than a standard Amazon delivery, you can be sure that the items will make it to your room or your loved one's room. If the patient cannot get out of bed, hospital staff will make sure the item makes it directly to their hands!
How to Add Your Hospital Address to Amazon
Now that you know that you certainly can have Amazon orders delivered to hospitals as long as the hospital will allow it, it's important to understand how you can add your hospital address to Amazon.
Luckily, this process is incredibly simple! Just follow the instructions here:
Sign into your Amazon account.
Click on the Accounts & Lists menu on the top right corner of the page.
Select Your Account.
Under the Orders & Subscriptions Preferences, click on Your Addresses.
Select Add Address.
Enter the hospital address, including the room number under the Address 2 line and the ward in which the room is located.
Select Set As Default.
Choose the items you wish to purchase and follow the steps to complete the order.
That's all there is to it! Your item is now on its way to the hospital and to the patient's room.
How Long Does It Take for Amazon to Ship to a Hospital?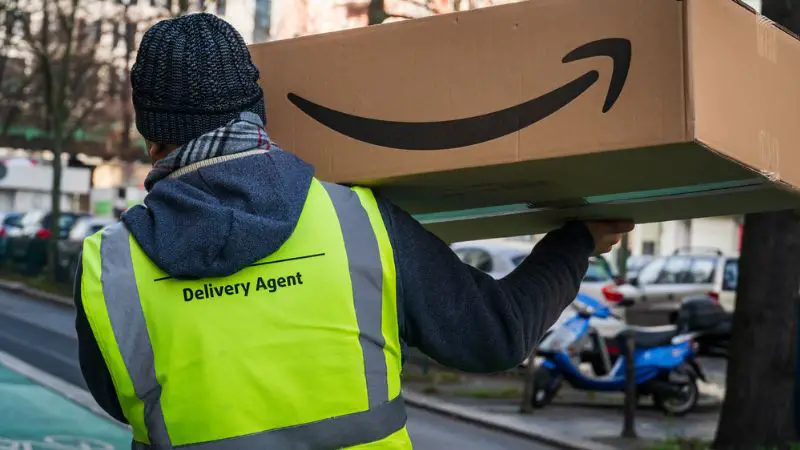 When you place an order with Amazon to be delivered to a hospital, it will not take any longer than a standard order.
Depending on the item and whether or not you have a Prime membership, the time it takes for Amazon to ship it to the hospital can be anywhere between 1 to 5 days.
However, it's important to remember that the delivery date set by Amazon is not necessarily the day the patient will receive the order. That is the date it will arrive at the hospital, and it may take the staff an extra day or two to get the package to the patient's room.
How Much Does It Cost for Amazon to Ship to a Hospital?
If the hospital where you are sending your Amazon package is local, it will not cost any extra to ship your Amazon package.
The only reason you would have to pay more is if you do not have Amazon Prime and the item has a specific delivery cost or if you are shipping internationally.
In that case, when you place your order, Amazon will let you know the cost of delivery, but it will not be any more than it would be to a standard home address.
Can You Send a Package to Someone in the Hospital?
Unless the hospital has specific rules and regulations as to what you can deliver to someone in their hospital, you can send any package to someone in the hospital.
It's essential that before you place an order to be delivered to someone in a hospital, you call the hospital directly and find out their rules, so you don't end up losing your package or getting it returned to the sender.
What Can You Send to a Hospital Patient?
As you know, there are certain items that you cannot send to a hospital due to safety regulations. There are definitely restrictions, so let's find out what you can and cannot send to a hospital.
Items You Can Send to a Hospital:
Flowers
Balloons
Magazines, Books, and Puzzles
Fresh Fruit Baskets & Other Snacks
Electronics
Greeting Cards
Blankets & Pillows
Items You Cannot Send to a Hospital:
Food that Requires Refrigeration
Flammable Items
Items that Cannot be X-Rayed 
Alcohol (Even in Toiletries)
Glass Containers
Some hospitals also have a maximum amount of electronics, books, plants, and personal items patients are allowed to have in their rooms, so it's important to understand how many of each of these products you or your loved one already have.
Can You Send Food to Someone in the Hospital?
Great news, you can send food to someone in a hospital! The only restriction is that the food needs to be safe to consume without being refrigerated.
Fresh fruit baskets, favorite snacks, or other dry products are best! Pre-made meals, dairy, meat, or any other food that should be in a refrigerator will not be accepted by the hospital staff.
Of course, every hospital and even certain wings in the hospital have different rules, so if you are planning on sending food, it's important to check with the hospital management first before placing your order.
Conclusion
Amazon will deliver to hospitals in [year] as long as the hospital does not outlaw deliveries. There are certain items that the hospitals will not allow to be delivered, so it's important to check in with your specific hospital before placing your order.