Over 200 million people around the world have Amazon Prime in 2022, and this membership truly has a lot to offer. With free delivery, overnight and two-day shipping options, hundreds of free movies and television shows, and tons of discounts, it may seem like Amazon Prime has it all.
But you might be asking yourself: Does Amazon Prime include books?
Do I Get Free Books With Amazon Prime?
You absolutely get free books with Amazon Prime through the Prime Reading platform which comes with the membership for no extra cost! You can access these free books on either a Kindle, Fire tablet, laptop, or with the Kindle app on an Android device.
In this article, we are going to discuss exactly how you can read books for free with Amazon Prime, as well as how Prime Reading differs from Kindle Unlimited, so keep reading! We have everything you need to know.
How Do I Read Books for Free With Amazon Prime?
One of the best things about reading free books with Amazon Prime is that you can access and read them on almost any device!
If you want to download a book onto your laptop, Kindle, tablet, or smartphone, the instructions are slightly different but no matter which option you choose, it should only take a few minutes to have your hands on a free digital book from Amazon Prime.
Read Free Books on a Laptop, Tablet, or Smartphone with Amazon Prime
You can easily read free books with Amazon Prime through almost any device, the only requirement is that your laptop, tablet, or smartphone, is connected to the internet or mobile data and has a built-in play store where you can download apps.
All you need to do is open the app store, and follow the instructions listed below:
Download the Kindle app for free onto your device.
You will be prompted to sign into your Amazon Prime account.
You may have to confirm your identity with a code sent to either your email or phone number associated with the account.
Once your Kindle app is connected to your Prime Membership, there will be an ever-changing Prime Reading section on your homepage full of free books!
That's all there is to it! You can download these titles as well to enjoy reading when your device is not connected to the internet.
Read Free Books on a Kindle with Amazon Prime
If you have a Kindle device, the process is even easier! Instead of downloading an app first, all you need to do is sign into your Amazon Prime account on the Kindle and you will be good to go!
Here are the directions to do so:
Ensure your Kindle is connected to a wireless network.
Click the three dots on the top right corner of the screen.
Select Settings.
Click Your Account.
Select Sign Into Existing Account.
Enter your Prime information.
Once again, the Prime Reading section will be added to your homepage and you can easily download free books immediately.
Is Amazon Unlimited Books Free With Prime?
While it may be a little confusing, Amazon Unlimited as an offering typically refers to music, when it comes to books, it's actually called Kindle Unlimited.
Because Amazon owns Kindle, it really is the same thing, but many consumers who are searching for "Amazon Unlimited" will only find the music offering, instead of the unlimited books they are looking for.
Is Kindle Unlimited Free for Prime Members?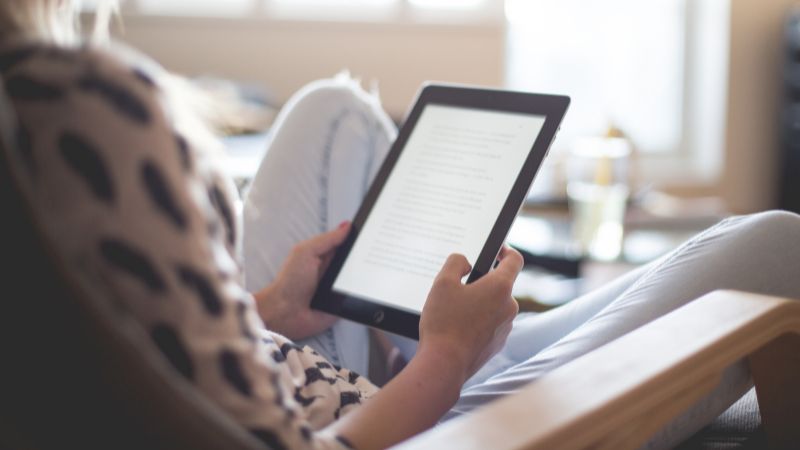 Now that you understand that Kindle Unlimited is Amazon's answer to unlimited books, you may want to know if it's free for Prime members.
Unfortunately, Kindle Unlimited is not free for Prime members. The service costs $9.99 per month, in addition to your Prime monthly payment.
As a Prime member, Prime Reading, which includes a variety of rotating titles, is free. That means you have the option of not paying any extra to read thousands of free books every month. However, you can only download ten titles at a time.
If you opt for Kindle Unlimited, you will receive millions of free titles, but you can still only download ten at a time, and you will have to pay the monthly subscription fee.
Does Prime Reading Cost Extra?
Just to clarify: Prime Reading does not cost anything extra if you already have a Prime membership!
There are currently over 3,000 books available through Prime Reading, and they are all free for Prime members!
Is Amazon Prime Reading the Same as Kindle Unlimited?
As you now know, Prime Reading and Kindle Unlimited are not the same service. But we know it can get a little confusing, so in this section, we are going to break down both options so you can fully understand and decide if you want to opt for Prime Reading and Kindle Unlimited.
| | | |
| --- | --- | --- |
| Feature | Prime Reading | Kindle Unlimited |
| Price | Free With Amazon Prime | $9.99 Per Month |
| Available Without Prime | No | Yes |
| Available Titles | 3,000 | Millions |
| Maximum Download | 10 Books at One Time | 10 Books at One Time |
| Magazines & Audiobooks | Yes | Yes |
| Available On Kindle App | Yes | Yes |
Hopefully, you now fully grasp the difference between these two platforms! The truth is, while Amazon Prime Reading has less available titles than the Kindle Unlimited, the service has quite a few popular titles to choose from.
Amazon Prime Free Books for Kindle
As there are over 3,000 available free books for Kindle with Amazon Prime, we won't list them all here. But in case you are curious, here are a few of the current most popular offerings on Prime Reading.
Signal Moon by Katie Quinn
My Evil Mother by Margaret Atwood
Scheme by Jeffery Deaver
Naomi's Gift by Martha Hall Kelly
Evidence of the Affair by Taylor Jenkins Read
The Harry Potter Series by J.K. Rowling
A Wild Rose by Fiona Davis
Twenty Years Later by Charlie Donlea
The Hive by Greg Olsen
The Perfect Child by Lucinda Berry
There are also hundreds of classic reads such as Jane Eyre, Little Women, Paradise Lost, Crime and Punishment, and so many more! Children's books, magazines, academic books, and audiobooks are all available for free as well.
Conclusion
With an Amazon Prime membership, you receive thousands of options for free books either on a Kindle device or through the Kindle app on smartphones, tablets, and laptops. Known as Prime Reading, there is no extra cost to your membership to enjoy thousands of incredible titles.
Welcome to CompanyScouts! I am Jake, the founder of CompanyScouts. I hold an Msc in Economics and Business Administration. With a deep interest in the consumer segment, I strive to help people get to know their favorite companies even better.