Amazon is the world's largest online retailer, and with over 12 million different products, the site has essentially everything you could ever need. Amazon even sells tires for your car, and an option to have them installed at a mechanic near you!
But before you go ahead and order your new tires, let's find out everything there is to know about buying tires on Amazon in 2022.
Can You Buy Tires on Amazon?
You can buy tires on Amazon. You can choose from hundreds of options from the industry's best brands, sometimes for a fraction of the cost. If you don't know how to install your own new tires, you can even opt to purchase an installation package at a nearby mechanic.
In this article, we are going to discuss how buying tires on Amazon works, how to opt for tire installation, the types of tires you can buy on Amazon, and even whether or not you actually should buy your tires on Amazon. You are going to be an expert on buying tires on Amazon in no time.
How Does Buying Tires on Amazon Work?
If you're not an automobile mechanic, you may think that you don't know enough about tires to make a purchase without a professional opinion.
But Amazon makes buying tires online quite simple, from finding the right size to deciding where you want them shipped, the process is pretty foolproof. Here's how it works:
Login in to your Amazon or Amazon Prime account.
Browse the automotive department or type in the brand of tires you are looking for.
When you start searching for tires, the Tire Finder box will appear at the top of the screen.
You can enter your vehicle information and Amazon will provide you with the size you need and the best options within that size.
Once you click to order your tires, you will be asked if you want to purchase an installation package.
Amazon will offer trusted mechanics shops within your area.
If you opt for installation, Amazon will send the tires directly to the shop.
If you don't, Amazon will send the tires to your preferred address.
Although Amazon really makes the process easy, it can still be challenging to decide which make and model is right for you. Reading reviews and item descriptions, and where the tires come from should all factor into your decision.
Where Do Tires Sold on Amazon Come From?
As you may already know, Amazon sells products both from their own warehouses and from third-party sellers. Most of the tires available on Amazon are sold directly by Amazon and are shipped from one of their many warehouses around the country.
While you might find some tires being sold by third-party sellers, when it comes to tires, it's best to go with the Amazon provided options. This is because if there is a problem with your tires, Amazon will not charge a shipping fee for returns, whereas third-party sellers might, and shipping tires is not that cheap.
Amazon Tire Installation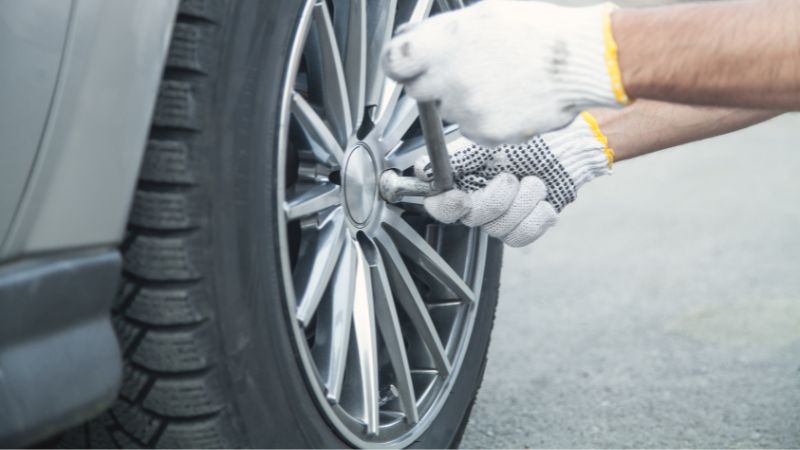 Amazon doesn't just sell tires from some of the best brands in the industry, they also give you the option to pay right away to have them installed.
Tire installation at a tire or repair shop should typically cost anywhere between $15 and $45 per tire depending on the type of vehicle and the store itself. However, if you opt for Amazon's tire installation the standard price per tire is between $10 and $25.
While it is most likely cheaper to use Amazon for your tire installation than other mechanics or tire shops, that's not the only factor you should consider before deciding if you want to have Amazon choose your installation location.
How Does In-Store Tire Installation Work on Amazon?
To make your life a little easier, Amazon has broken down exactly how their tire installation offering works:
Login to your Amazon or Amazon Prime account.
Search and select the correct tires for your vehicle using the Tire Finder.
Click to select the tires, then select Include Service.
Select one of the service providers in your area.
Select three of your preferred dates for the service.
You will receive an email with the date and time of your appointment.
The tires will be shipped directly to the service provider.
Bring your vehicle in at the time of your appointment.
It's a pretty simple process, and the best part is that the installation comes with the Amazon Happiness Guarantee, which means if you are unhappy with the service, you can file a claim within 90 days for a full refund.
What Tires Can You Buy on Amazon?
If buying tires on Amazon is sounding pretty good right about now, you may want to know which brands of tires you can find on the site. While Amazon sells tires from over forty brands, here are a few of the most popular options:
Bridgestone
Mastercraft
Cooper
Pirelli
Michelin
Hankook
Goodyear
Toyo
Firestone
BFGoodrich
Now for arguably the most important question: Is it safe to buy tires on Amazon?
Is It Safe to Buy Tires on Amazon?
The simple answer is yes, it is safe to buy tires on Amazon. Amazon as a company is extremely consumer-focused, and their dedication to customer satisfaction is seriously impressive.
So, while there should never be a problem with your tires or the installation, if something is not quite right, Amazon will most likely fix it immediately and send you a full refund.
Warranty When Buying Tires on Amazon
When purchasing tires directly from the brand manufacturer, they usually come with warranties  such as road hazard, mileage, workmanship, etc. These warranties can last up to six years and will ensure that if anything out of the ordinary happens to your tires, the company will either fix or replace them for free or for a discounted fee.
Great news: When buying tires on Amazon, you will still receive these warranties from the manufacturer! However, it's important to read the fine print to find out exactly what your specific brand of tires offers so you can make an informed purchase.
Is It Cheaper to Buy Tires on Amazon?
As with most Amazon products, tires are cheaper to buy on Amazon than most other in-person shops or online stores.
Of course, this can depend on the brand and size of the tires themselves, and if there are any special deals your local tire shop may be offering.
But overall, you can assume that Amazon has the best deals on tires all year round.
Can I Sell Used Tires on Amazon?
You can certainly sell used tires on Amazon. If you have a seller's account, which is extremely easy to establish, all you need to do is set your price, and wait to make the sale!
If you have never sold anything on Amazon, it's important to understand how to sign up as a seller, the percentages that Amazon takes as commission, and your options for shipping and possible returns before deciding if you want to sell used tires on Amazon.
Conclusion
Buying tires on Amazon in 2022 can be a great way to get the tires you want at a discounted price. By buying tires from Amazon, you can enjoy the manufacturer's guarantee, and even affordable installation from an Amazon trusted location, backed by the Amazon Happiness Guarantee.
Welcome to CompanyScouts! I am Jake, the founder of CompanyScouts. I hold an Msc in Economics and Business Administration. With a deep interest in the consumer segment, I strive to help people get to know their favorite companies even better.