While millions of people around the world use Amazon to purchase their favorite products, many people don't know that the now billion-dollar online marketplace got its start selling books! Amazon is still the largest retailer of books on the planet, within both the new and used categories.
So let's find out what buying used books from Amazon in [year] actually looks like for the consumer.
Can You Buy Used Books On Amazon?
You absolutely can buy used books on Amazon. With millions of options, you can find some of the most popular titles for a fraction of the cost of a new book. To ensure you'll receive one in good condition, you should purchase it from a reputable seller with good reviews.
In this article, we are going to discuss how buying used books from Amazon works, the options Amazon has for used books, and why you should and shouldn't opt for a used book from Amazon.
How Does It Work When Buying Used Books From Amazon
When you buy a used book from Amazon, you aren't actually purchasing an item from Amazon's warehouse but instead from a third-party seller.
Before 2015, Amazon did offer a trade-in option for used books, which they would sell to other customers; however, that service was discontinued. Now, the only way to purchase used books on Amazon is through individuals or small-medium companies who use Amazon as a platform for their sales.
Literally, anyone can sell their books on Amazon, which can be both a good and a bad thing. Individuals with too many books at home or small bookstores looking to expand their market can easily sign up to be a third-party seller, set a price for their used books, and start making sales.
The books can also come from anywhere, someone's classics collection collecting dust, books they bought in other used book stores, or simply titles they have read and are ready to pass on to another reader.
What Do Used Books From Amazon Look Like?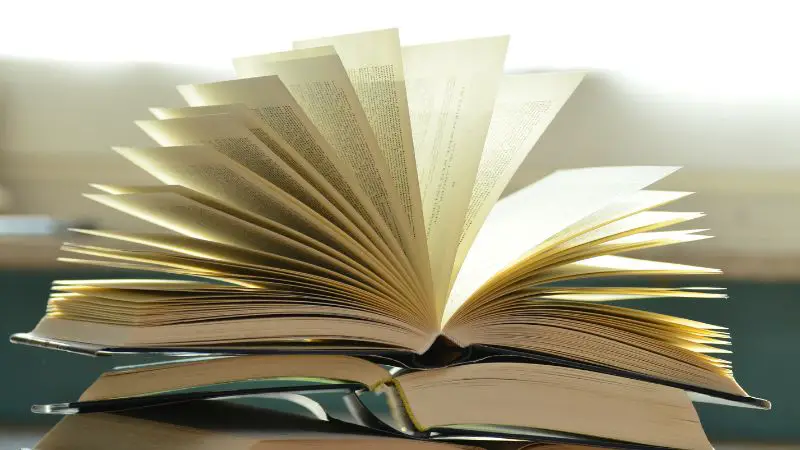 Because there are so many different sellers, types of books, and various price tags, there's truly no way to say what used books from Amazon look like.
Some could be in like-new condition, while others may have years of wear and tear. Luckily, Amazon requires sellers to describe in detail the condition of a used book under the item information.
You may see descriptions such as "some pages folded but text unaffected," "no cracks in the spine," or "non-library."
If you are only looking to buy used books that are in like-new condition, it's important to not only read the descriptions but also to check out the seller's reviews to ensure the previous client's received their used books in the conditions described.
Is It Safe to Buy Used Books from Amazon?
Although it may seem too easy to sell used books on Amazon and, therefore, unsafe to buy them, Amazon is pretty strict with their third-party sellers and it is generally safe to buy used books off Amazon.
If you order and receive a used book that is not as described, Amazon will most likely issue a full refund. While you may have to pay the shipping cost to return it to the sender, it's just as likely that the shipping will be paid by Amazon.
How Much Do You Save From Buying Used Books From Amazon?
Depending on the types of used books you are purchasing from Amazon, i.e., textbooks, classics, non-fiction, or even children's books, how much you save can greatly vary.
Used books on Amazon are typically anywhere between 20% and 60% cheaper than a new copy. If you are opting for a book that is typically $10, a $2 discount may not seem that exciting. But if the book was originally $80, for example, a textbook, and was available used for $43, those savings can really add up!
The bottom line is no matter how many or what kind of books you buy, buying them used on Amazon will always save you money.
What Used Books Can You Buy on Amazon?
There are several different categories of used books you can buy on Amazon, and within these categories, millions of titles to choose from.
Textbooks
Children's Books
Non-Fiction
Fiction
Paperbacks
Hard Covers
Classics & First Editions
Comic Books
Educational Books
Biographies & Memoirs
Cookbooks
Essentially, every kind of book that you might be able to find in a bookstore could be available in Amazon's used book selection.
What Happens When You Buy a Book on Amazon?
If you buy a book from Amazon that is being sold by a third-party seller, here's what happens next:
The order is placed with the seller, who either ships the book themselves, or opts to pay Amazon to ship it for them.
Your payment is processed by Amazon who keeps 15% plus a flat rate of $1.85 per book.
The rest is sent to the seller as cash or credit.
If you are displeased with your purchase, you can reach out to Amazon to initiate a return and most likely receive a full refund.
Most sellers on Amazon claim that selling used books is a great way to make a little extra income; although Amazon will always keep some of the profits, it is usually worth the sale for the third party.
Why You Shouldn't Buy Books From Amazon
When purchasing anything from a third-party seller, there is always a chance that you won't get exactly what was promoted on the site. However, by purchasing through Amazon, you can pretty much be sure that if your used book arrives in poor condition, you won't have to pay for it.
Most consumers who believe you shouldn't buy books from Amazon are not disgruntled with the service itself but, in fact, with how these sales are detrimental to authors, publishers, and even small bookstores.
The truth is that every sale of a new book results in a royalty payment to the publisher and the author, and used books don't get them anything.
Whether or not you feel strongly about the fact that saving money on used books will inherently lower the income of authors and publishers is up to you, but it is something to be conscious of.
Conclusion
Buying used books from Amazon in [year] is a safe and cost-efficient way to get your hands on your favorite reads, textbooks, children's books, and much more. These items are always sold by third-party sellers, so make sure to read the reviews and descriptions thoroughly before making your purchase.