As you already know, Amazon is one of the largest companies in the world. It ships millions of products every single day, and in order to do so in an organized way, Amazon has various types of centers with very specific operations.
So you might be wondering: What is the difference between an Amazon fulfillment center and a sortation center?
Amazon Sort Center vs. Fulfillment Center
Amazon sort centers are where items are organized, scanned, and prepared for shipment on palates, whereas Amazon fulfillment centers are where orders are filled and packages are sent. Almost all Amazon employees have reported that working at a sortation center is far better than working at a fulfillment center.
In this article, we are going to find out the many differences between Amazon's sort and fulfillment centers, as well as whether or not you can work at both types of warehouses at the same time and which one is better for employees.
Amazon Sortation Center
Amazon sortation centers are fairly new to Amazon's organizational process. At Amazon sortation centers, items arrive packaged and ready to be scanned and organized into palates to be sent to distribution or fulfillment centers.
There are essentially two jobs that you can have at an Amazon sortation center:
Sortation Center Warehouse Associate: You will be sorting, scanning, and stacking packages on pallets and helping to get customer orders ready for delivery.
Sortation Center Warehouse Manager: Overseeing sorting, scanning, and stacking packages on pallets and making sure the center runs smoothly.
Now, let's talk about the pros and cons of working at Amazon sortation centers.
Pros of Amazon Sortation Centers
Overall, almost all Amazon employees agree that they love working at the sortation centers! Here are just a few of the advantages:
You can make your own schedule by choosing shifts every week.
The work is easy and consistent.
There is a relaxed atmosphere.
Fast-paced and busy day to help the time move quickly.
Short shifts, so employees don't become exhausted.
Before you go ahead and get a job at an Amazon sortation center, it's important to understand the disadvantages.
Cons of Amazon Sortation Centers
While most employees do like working at sortation centers, there are a few cons to be aware of:
Short shifts mean working several days a week for full-time employees.
The work can be tedious as it is the same all day.
It can be physically challenging to constantly lift heavy boxes.
The pace can be too fast for some.
Amazon Fulfillment Center
Amazon fulfillment centers are far bigger and are considered more challenging than sortation centers as there is a lot more going on.
At Amazon fulfillment centers, items arrive from third-party sellers, as returned items, and from Amazon's manufacturing plants. They are then organized and stored, picked when they need to be shipped out, packaged, and sent outbound.
In addition to management, supervisors, safety teams, human resources, and a variety of other employees who work at Amazon fulfillment centers, there are several jobs that an Amazon fulfillment center associate can have:
Inbound Docks
Outbound Docks
Water Spiders
Stowers
Pickers
Packer
Problem Solver
And there are even more! When you are hired as an Amazon fulfillment center associate, you will learn one job, but as you continue at Amazon, you can learn more jobs and work at different stations throughout the week.
Pros of Working at Amazon Fulfillment Center
There are a lot of advantages to working at Amazon fulfillment centers, but here are a few of the employees' favorites:
10-hour shifts and 3 days off a week.
The fast-paced and busy environment means it never gets boring.
The option to work several different jobs keeps things interesting.
You can make your schedule every week to suit your needs.
Cons of Working at Amazon Fulfillment Center
On the other hand, there are certainly some downsides to working at fulfillment centers:
Many employees feel overworked as the shifts are too long.
The work is physically draining.
The work is non-stop and it can be challenging to find time to take a break.
Managers at fulfillment centers are constantly ensuring targets have been met, putting added pressure on employees.
The warehouse floor is hectic.
While it may seem like both centers have several pros and cons, almost every Amazon employee who has given reviews of working in both sort and fulfillment centers agrees: Sortation centers are a far better work environment.
What Are the Different Types of Amazon Warehouses?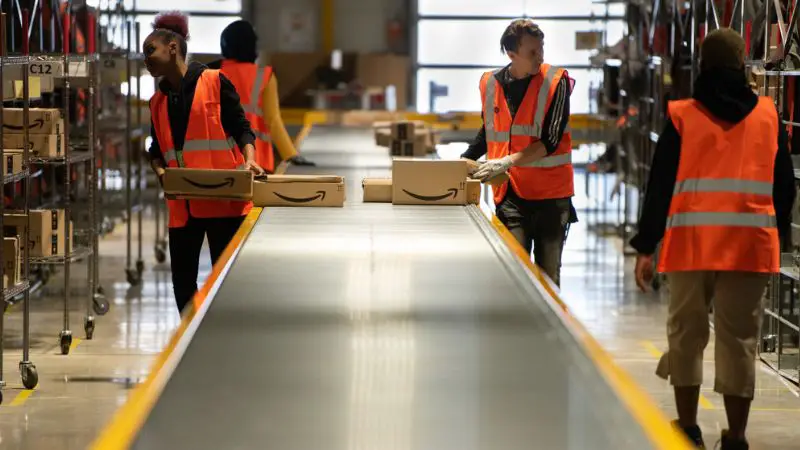 It's important to note that if you are thinking of applying to an Amazon warehouse, or even if you already work in one, there are far more types of warehouses than just sortation and fulfillment.
Here are the many different types of Amazon warehouses:
Fulfillment & Distribution Centers
Sortation Centers
Receiving Centers
Delivery Stations
Amazon Fresh
Specialty Centers
Can You Work at Two Amazon Locations at the Same Time?
Although there are literally hundreds of Amazon locations you could work at, you can only work at one Amazon location at a time.
That means that even if you're only hired as a part-time employee, or if there aren't enough shifts at your center, you cannot get another part-time job working at another Amazon location.
Conclusion
Now that you understand the differences, as well as the pros and cons of working in an Amazon sort or fulfillment center, hopefully, you understand why most Amazon employees agree that working at the sortation centers is better.
The bottom line is that sort centers are less busy, less chaotic, and overall, the jobs are easier than those available at fulfillment centers.