Hundreds of laptops are available on Amazon for purchase, and some have an incredibly low price tag. While Amazon is considered to be a trustworthy and reliable e-commerce site, buying a big item like a laptop from the online marketplace can still make people a little nervous.
If you are considering purchasing a laptop on Amazon or have already done so and need to learn about the Amazon laptop return policy, this article is for you!
Amazon Laptop Return Policy 2022
Amazon's laptop return policy states that laptops purchased from Amazon arrived in damaged condition or are still in an unopened box can be returned for a full refund within 30 days of purchase. Usually, used laptops can also be returned for a full refund, but it's not guaranteed.
If you want to learn everything there is to know about returning a laptop to Amazon, keep reading! We are going to step through the regulations and process of returning a laptop to Amazon right now.
Can You Return a Laptop on Amazon?
Great news! You absolutely can return a laptop to Amazon.
While Amazon has a fairly clear-but laptop return policy, the truth is that Amazon is extremely lenient when it comes to returns as they want to ensure customers feel safe purchasing items on their site.
The official statement from Amazon is as follows:
New laptops purchased from Amazon.com that didn't start when they arrived, arrived in damaged condition, or are still in an unopened box can be returned for a full refund within 30 days of purchase.
Amazon will test returned computers and may impose a 15% restocking fee if the customer misrepresents the condition of the product.
Any returned laptop damaged through customer misuse, missing parts, or in unsellable condition due to customer tampering may result in the customer being charged a higher restocking fee based on the product's condition.
New, used, and refurbished products purchased from Marketplace vendors are subject to the returns policy of the individual vendor.
While these regulations and rules may seem pretty strict, no matter what the problem is with your laptop or if you simply changed your mind, Amazon will likely give you a full refund and even pay for the return shipping if you bought the product directly from their warehouse.
The rules are slightly different if you purchased the laptop from a third-party seller. Technically, any returns to third-party sellers are not handled or guaranteed by Amazon.
When you follow the instructions listed below to initiate the return, Amazon will update you on the seller's return policy, and you may have to pay the return shipping or even a restocking fee unless the item arrived damaged or was different from the original description.
How Long Do You Have to Return a Laptop to Amazon?
You have exactly 30 days from the shipment date to return a laptop to Amazon for either a full refund or a replacement laptop.
If for some reason, you have lost the shipping receipt that comes in the delivery package, you can find that date under the product information section in the Your Orders menu of your Amazon account.
It's important to note that the laptop does not have to arrive back at the warehouse within the 30-day time frame; you only have to initiate the return before the deadline. After that, it may take a few days for the laptop to be picked up and shipped back.
Can You Return a Used Laptop on Amazon?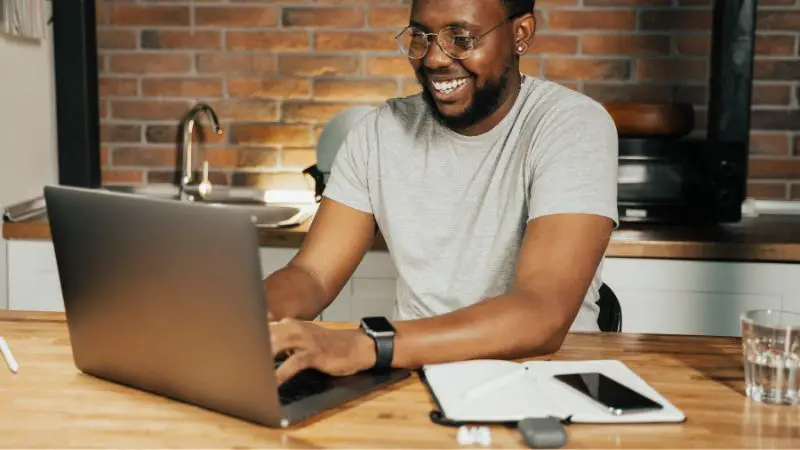 Whether or not you can return a used laptop to Amazon is a little ambiguous. Amazon does not clearly state if you can or cannot return a used laptop for a full refund, and it seems that Amazon wants to be sure they can say no if they decide to.
At the end of the day, Amazon truly wants to give everyone who needs a return their money back in order to increase customer satisfaction and retention, so it is likely that as long as the laptop is not damaged, scratched, and doesn't look like it was used at all, you will be able to return it to Amazon.
In order to get a refund, you should ensure that the laptop is returned to its factory settings. Amazon will run diagnostic tests on the laptop when it is returned, and if there are any problems or visible wear and tear, you may not be eligible for a full refund.
Can You Return a Computer on Amazon Without Original Packaging?
Once again, answering whether you can return a computer to Amazon without original packaging is a little tricky.
While the company has stated that you certainly will need the original packaging to return a laptop, it also has an option to return several items, sometimes including laptops, without a box at all.
When you initiate the return within Your Orders on your Amazon account, Amazon will let you know which options are available for your laptop. If you see an option to drop off the laptop at a location, box and shipping label free, you are good to go! If not, you may be out of luck.
Does Amazon Have a Restocking Fee for Computers?
The only reason you would have to pay a restocking fee to Amazon for your returned computer is if you misrepresent why it is being returned.
For example, if you write that the computer does not work, when it arrives at the warehouse, Amazon will test the computer. And if it does work, you will most likely have to pay 15% of the original sales price as a restocking fee.
Also, if you purchased the computer from a third-party seller, their fine print might state that any returns require a restocking fee.
How to Return a Laptop Too Amazon
If you want to return an unopened or even a used laptop to Amazon, there is a good chance that you will receive a full refund as long as you initiate the return within 30 days of the shipment date and the laptop is in the same condition you received it in.
Now that you know everything there is to know about Amazon's laptop return policy, let's find out how you can return your laptop!
Log in to your Amazon account.
Click on the Accounts & Lists toggle on the top right corner of the screen.
Navigate to Your Orders.
Select the laptop you wish to return.
Choose the reason for the return.
Select how you wish to process your return (here is where you will see options for drop off or pick up, and Amazon will explain whether or not it needs to be in the original packaging.)
If you opted to have the laptop picked up from your home, set a time and date, then print the shipping label and attach it to the package.
If you opted to drop off the laptop at an Amazon location, choose the store most convenient for you.
Select refund or replacement.
That's all there is to it! Once Amazon has received your laptop and runs the diagnostic tests, you will receive either a full refund into your account, a partial refund minus a restocking fee, or a replacement laptop.
Conclusion
The Amazon laptop return policy states that if laptops are returned within 30 days of the shipment date in the same condition they were received, you're eligible for a full refund. Amazon reserves the right to charge a restocking fee if the box was opened or the laptop was used.
Welcome to CompanyScouts! I am Jake, the founder of CompanyScouts. I hold an Msc in Economics and Business Administration. With a deep interest in the consumer segment, I strive to help people get to know their favorite companies even better.