Customers can now rent e-books on Amazon and return them within a specified time. A distinct feature of these e-books is that you are allowed to make notes and highlight them as you read. So what is the Amazon ebook rental return policy, and how does it work?
Amazon Ebook Rental Return Policy
The Amazon ebook rental policy allows customers to return books within seven days of renting the ebook. Ebook rental returns must be for a genuine reason, and if you want to return an ebook rental after seven days have passed since you rented it, you may not get a refund.
If you rent an ebook from Amazon, you can always return it before the agreed rental period if the book does not meet your expectation. Keep reading to learn more about Amazon's ebook rental return policy.
Can You Return Rented Ebooks for a Full Refund on Amazon?
You can return rented ebooks for a full refund on Amazon. However, you may not be eligible for a refund if you make your request after seven days of renting the book.
Amazon understands that it's possible to rent a book without needing it. They also understand that sometimes an ebook might not meet your expectations or that you rented the wrong one in the first place.
With all the many things that can go wrong with an ebook, Amazon allows users to return rented ebooks for full refunds easily.
Can You Return a Rented Ebook on Amazon After Reading It?
You can return a rented ebook on Amazon after reading it. This is possible even if you want a full refund for the book, and a full refund is only possible if you return the book within seven days.
After seven days, Amazon will treat a rental return as if you were returning the ebook just before your rental period.
Usually, Amazon will give you a particular date to return your rented ebook. If you do not return the ebook on the due date, Amazon automatically extends the rental period by 15 days, which they will charge you for.
How to Return a Rented Ebook on Amazon
Amazon has made it easy for customers to return rented e-books. Here's how to return a rented ebook on Amazon:
Log in to your Amazon account using your email (the one you used to rent the book)
Go to "Your Orders" and select "Digital Orders."
You will see the "Return for Refund" option if your book is eligible for a return. Select this option and wait for Amazon to process your request.
Note that you may not be eligible for a refund if you make your request after seven days of renting the book.
Amazon Textbook Rental Customer Service
The rental services offered by Amazon are very affordable. It is easy to rent a textbook, but there is a possibility you might get stuck during the process. And that's where Amazon's customer service comes in.
Amazon textbook rental customer service can help you throughout your rental process—starting, buying, extending, or returning your rental.
Depending on your choice, you can chat or call the toll-free number (888) 280-4331 to reach a customer service representative. You can always reach out for help 24 hours a day.
Can You Return Amazon Book Rentals at Kohl's?
Kohl's drop-off stations are one of the places you can return your rented books. The only Kohl's stores where Amazon returns are not accepted are in Anchorage and Alaska.
If your Amazon book rental is acceptable at Kohl's, you will see Kohl's location after you select the drop-off option. Here's how to return Amazon book rentals to Kohl's.
Click on the drop-off option and select Kohl's.
Refresh your email and check for a QR code.
Put your book in a suitable package box.
Take it to the closest Kohl's store to you, along with your QR code.
Kohl's will return your rented book for free.
If you can't use a Kohl's drop-off option, either the book is not eligible for this service, or there is no nearby location.
Amazon Textbook Rental Problems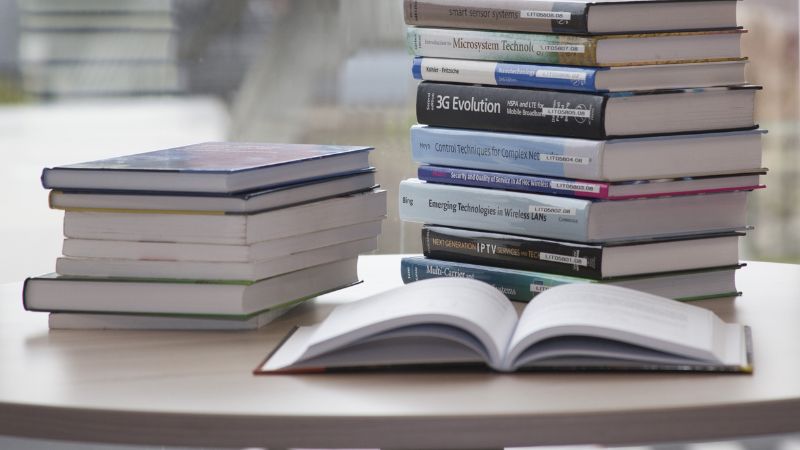 Here are some Amazon textbook rental problems you may face and how to handle them.
Additional fee charges
Amazon will charge you extra fees if you don't return your textbook by the due date. The first extra fee is a 15-day extension fee, and the second extra fee is the buyout fee. You should try to set a reminder to return rented books before their due dates.
Oversight of the print in front of the e-book
It is essential to read the rental order, extension, and buy-out prices before renting an e-book. This will give you an idea of what can be deducted from your credit card if you don't keep to the terms and conditions.
Are You Allowed to Write in Amazon Rented Textbooks?
If you rent a hardcover textbook, you are not allowed to write in it. This is because it will not be in good condition for other customers to rent.
When returning a rented textbook to Amazon, Amazon will check if your textbook is still in acceptable rental condition. If not, you will be charged the full purchase price, and Amazon will send the book back to you.
It is advisable to rent an e-textbook to write notes and highlight as you read. Amazon will store your notes in the cloud; you can retrieve them if you re-rent a textbook. The interesting thing about this feature is that your notes and highlighted parts do not show up when another person rents the same e-book.
What Happens if You Don't Return a Rented Textbook From Amazon?
One of the criteria for renting a book from Amazon is to have a valid credit card with an expiry date of at least 45 days from your rental due date. Amazon will first assume you are late in returning the book if you don't return it by the due date.
If you don't return the rented book after the due date, Amazon will activate an automatic 15-day extension of your rental period, deducting the money from your credit card. Amazon expects you to return the book within this extension period.
An email is sent to you two days before the expiration of the extension period. You will be charged the book price if it is not returned, and you are no longer expected to return it.
Conclusion
Amazon's ebook rental return policy allows you to rent an ebook and return it for a full refund after seven days. Amazon will not refund your returns if you return the ebook more than seven days after renting it. Return rented books on the agreed date to avoid extra fees.
Welcome to CompanyScouts! I am Jake, the founder of CompanyScouts. I hold an Msc in Economics and Business Administration. With a deep interest in the consumer segment, I strive to help people get to know their favorite companies even better.