If you order a package from Amazon and you're not there to receive the package, there are a few things that can occur.
So let's find out what happens when you miss a delivery from Amazon and what you can do to ensure it doesn't get sent back to the sender.
What Happens if You Are Not Home for an Amazon Delivery?
If you are not home for an Amazon delivery, three things may occur: Amazon will try to leave your package in a secure location, Amazon will make several delivery attempts, or your Amazon item will be returned to the sender, and you will receive a full refund.
In this article, we will go through the many things that can occur if you are not home for an Amazon delivery, as well as what you can do to get your package. Everything you need to know is right here!
1. Amazon Will Try and Leave Your Package in a Secure Location
The first thing that Amazon will do with your package if you are not home when Amazon tries to deliver a package is to try to leave it in a secure location.
Here is a list of locations that Amazon considers safe for delivery:
An internal corridor, such as a mudroom or foyer.
A garage.
A back porch that cannot be seen from the street.
In a shed.
With a neighbor.
When Amazon leaves a package in a safe location, they will let you know where they left it via an email, text, or notification on the Amazon app.
Essentially, the safe location needs to be hidden from anyone who might be walking by your house or apartment.
2. Amazon Will Make Three Delivery Attempts on Consecutive Days
If the delivery person cannot find what they consider to be a safe location to leave the package, you might be wondering: How many times will amazon attempt delivery?
Amazon will attempt to deliver it the next day and the one after that. Amazon will only deliver your package within a specific time frame of 8:00 a.m. to 8:00 p.m. You can also opt to choose a specific delivery window to ensure you'll be home, as well as weekend deliveries if you work during the business week.
Whether you choose a specific delivery time or not, Amazon will attempt to deliver your package for three consecutive days before returning it to the sender.
If you sign up for Shipment Updates via Text, Amazon will let you know that they attempted to deliver your package and will try again tomorrow. With this alert, you can opt to put in a time frame that you will be home to accept the delivery.
3. Your Amazon Package Will Be Returned for a Refund
If you are not home to receive your package from Amazon and they cannot find a safe location to leave it, it will be returned to the third-party seller or the Amazon warehouse where it came from.
Unfortunately, if this does occur, you will not simply be able to request that it be re-shipped; you will have to actually re-order the item after you have been refunded for the return. Although this can be annoying, luckily, Amazon almost always initiates a complete and full refund, including the shipping fee and restocking fee.
Often, Amazon will not charge you anything for a return if you were not home to receive the package as Amazon desperately wants to keep their customers happy. However, the site does state that you could be required to pay the return shipping label, as it was not technically Amazon's fault that it was not delivered.
If Amazon does charge you for the return shipping label, how much it costs will depend on the item itself, the price tag, and where it came from.
Although no cost is set in stone, Amazon has created a list of the pricing you can expect depending on the item:
| | | |
| --- | --- | --- |
| Item | Per Package | Per Item |
| Apparel, Loose Stones, Jewelry, Shoes, Software, VHS Videos, Watches | $3.99 | $0.99 |
| Luggage | $4.99 | $0.99 |
| Books | $3.00 | $0.99 |
| Kindle | $3.99 | $2.99 |
| Cassettes, DVDs, Music, CDs, Vinyl | $1.99 | $0.99 |
| Video Games & Accessories | $3.99 | $0.99 |
| Video Game Consoles | $6.99 | $0.99 |
| Toys | $3.99 | $0.85/lb |
| Computers | $7.99 | $0.65/lb |
| Automotive, Baby, Cell Phones & Accessories, Electronics, Furniture, Grocery, Health & Personal Care, Home & Garden, Industrial & Scientific, Kitchen & Housewares, Office Products, Outdoor Living, Sports, Tools & Hardware | $4.99 | $0.75/lb |
| Pet Supplies | $4.99 | $0.59/lb |
| Televisions | N/A | $50.00 |
| Any combination of the above items. | Highest applicable per-shipment charge. | As Above. |
| Items shipped via a specialty carrier (e.g., CEVA, Pilot, ABF) | N/A | $50 |
Now that you understand what you may be charged for an Amazon package or item that is returned due to the fact that Amazon could not deliver the shipment, let's find out what you can do before it actually gets returned.
Can I Pick up a Missed Amazon Delivery?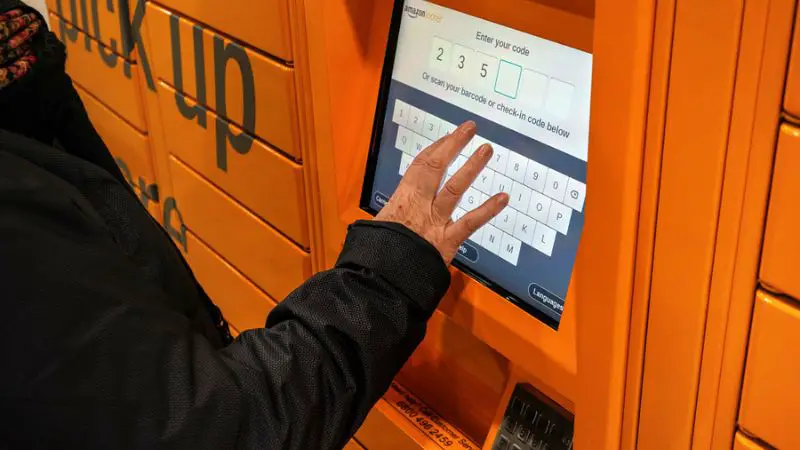 You may or may not know that when you place an order delivery, you can opt to have it shipped to an Amazon pick-up location. You can choose to pick up your Amazon package at an Amazon Hub location, a Kohl's store, or a Whole Foods Market near you.
However, if you don't first select to pick up your Amazon delivery from a location, you may still end up there. If Amazon cannot deliver the package to your home as originally requested, they may send you a notification on which you can decide to either select a specific time to have it delivered the next day, or you can opt to have it delivered to an Amazon pick-up location.
Although it's unlikely, Amazon could decide to drop off the package at a pick-up location and simply send you a notification of where it is. It's important if you are expecting an Amazon delivery to continue to check your phone, email, and Amazon.com or app notifications.
Should I Contact Amazon if I Missed a Delivery?
If you receive a message that Amazon missed you during an attempted delivery, or if you have noticed that it has been several days since the expected delivery date, you will certainly want to find out what you should do next.
You should absolutely contact Amazon if you missed a delivery. You can contact their customer service on the site or call their toll-free 24-hour service line at 1-888-280-4331.
They will either let you know that your item has been returned to the sender and you should expect a refund or where your package is and how you can get it!
Should I Place a New Order if I Missed an Amazon Delivery?
If you missed an Amazon delivery and the delivery person attempts to deliver it for three consecutive days, it will be returned to the location from where it came.
Unfortunately, you cannot opt to have the item or package to be reshipped to you; in fact, you will have to completely re-order the product to have it shipped again.
You can either wait for the refund to be returned to your preferred payment method or as an Amazon gift card, or you can simply reorder the item as soon as you've found out it was returned.
Either way, you will receive a refund for the original product unless Amazon decides to charge you for a restocking or shipment fee. So if you want to get the item as quickly as possible, you may want to re-order the item right away.
When Will I Receive a Refund for a Missed Amazon Delivery?
Whether you initiated the refund or Amazon did, once the item actually arrives at the warehouse or third-party seller's location, Amazon will initiate the refund.
Here is how long it will take to receive a refund for a missed Amazon delivery:
Credit Card: 3-5 Business Days
Debit Card: Up to 10 Days
Amazon.com Gift Card: Two to Three Hours
Reward Points: Up to 5 Days
Checking Account: Up to 10 Days
Conclusion
If you are not home for an Amazon delivery, the delivery person will either try to find a safe location at your home, attempt to deliver it again for 3 consecutive days, or return it to the sender and initiate a refund to your preferred payment method.
Welcome to CompanyScouts! I am Jake, the founder of CompanyScouts. I hold an Msc in Economics and Business Administration. With a deep interest in the consumer segment, I strive to help people get to know their favorite companies even better.