Placing orders on Amazon is easy and affords you timely updates on the status of your order. For example, Amazon lets you know when your order is Note Yet Shipped, Shipped, Out for Delivery, etc. In this article, we will cover what Amazon's "Order Received" status means.
What Does "Order Received" Mean on Amazon?
"Order Received" on Amazon means that your order was successful and Amazon has received the order. But while Amazon has received and confirmed your order, they are yet to take any steps to prepare your order. After Amazon receives your order, they will start picking, packing, and shipping the order.
Keep reading to know what happens after Amazon receives an order, how long Amazon will say "Order Received," what happens after Amazon receives an order, and more.
Why Does My Amazon Order Say "Order Received"?
If your Order Status reads "Order Received" on Amazon, it means Amazon has received your order and has verified your payment method.
Usually, Amazon will charge you once you place your order if you're shopping from a third-party seller. However, if you're shopping directly from Amazon using a credit card, Amazon will charge you after the order enters the shipping process.
So, when you see "Order Received," Amazon will charge you at this point after you've placed the order. If otherwise, Amazon would be getting ready to charge you for the order you have placed.
How Long Will Amazon Say Order Received?
Your order status may read "Order Received" for 30 minutes or more after Amazon has received your order. During this period, you can change your mind and decide to cancel your order. Orders you choose to cancel will be marked as canceled and disabled in Manage Orders.
Your Order Status should change to "Not Yet Shipped" after a few minutes to hours. It may read "Not Yet Shipped" for up to 36 hours and then change to "Shipped."
For "Amazon order received but no delivery date," you can track the order you placed by checking the order status on the App home page.
To check, follow these few steps:
Proceed to your Orders.
Choose the order you would love to track.
Click on Track Package to know the state of your Order.
What Happens After Amazon Receives an Order?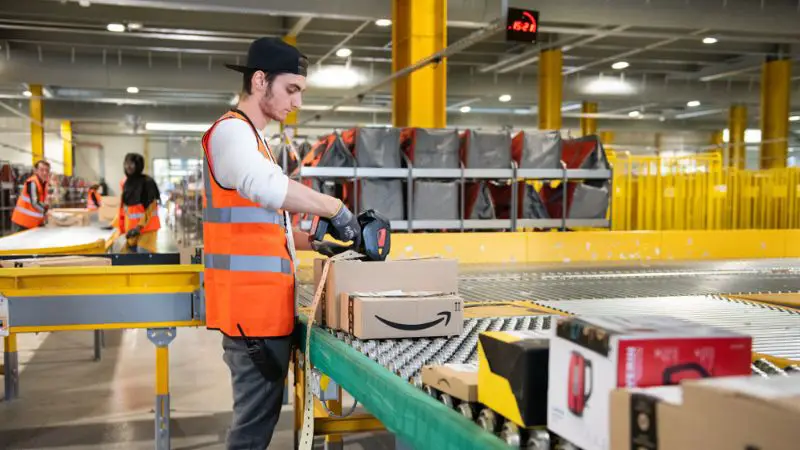 Once Amazon receives your order, you have about 30 minutes to cancel it (in case the order was placed by mistake) and also allow you to make changes to it.
If you don't cancel the order after that time, Amazon will proceed to verify your order by validating the details of your order and payments.
If your order was validated, "Amazon's Order Received Status" will indicate that Amazon has received your order and will pack, process, and ship it soon.
When an item is not available, the item may be temporarily out of stock but still available to order. Amazon will inform you by sending a message, "Amazon order received we will email you when we have an estimated delivery date."
So, when Amazon gets the item from the supplier, it will begin the shipping process.
When Should I Contact Amazon Support About an Order Received Status?
If an Order Received Status continues for many days, it might result from Amazon's verification of pending orders, which can take up to 21 days. Contact Amazon customer support within or at the end of this period.
Most times, when a pending order continues for a few days, that means Amazon is just preparing and packing the order. This order processing should end in a few days, after which Amazon will ship your order.
However, a pending order may also point to a problem with any of the following:
The credit or debit card you used was not authorized.
You didn't finish the transaction.
The FBA order (Fulfilled by Amazon) contains a product that is out of stock.
All your items must be gathered when you're eligible for bulk shipment. 
The seller would contact you through Amazon Customer Service for the first two problems to find a solution. While with the rest of the issues, you just need to wait a bit longer for your order to be shipped.
Can You Do Anything to Make Amazon Ship Your Order Faster?
For "Amazon order received but not shipped," you can modify the Scheduled Delivery time and date for orders that haven't started the shipping procedure by going to Your Orders in Your Account.
To change the expected delivery date, follow these few steps:
Find your order by going to Your Orders.
Change Shipping Speed.
Click and choose a Different Date and Time.
Choose another suitable time and day from the calendar.
Click to confirm.
You won't be able to modify your Scheduled Delivery date in Your Orders if your item has already shipped or if you didn't modify your delivery date and time during the checkout process.
You should speak with Amazon Customer Service for further information on your alternatives.
Conclusion
When Amazon displays "Order Received," it means your payment has been received and your payment verified by Amazon. However, at this point, Amazon has not started preparing your order. Amazon will send you a mail about the estimated delivery date, and you can still change your shipping speed.