Amazon, in addition to being the most popular online retailer in the United States, also operates in over 20 countries around the world. If you are on vacation or have moved abroad to France, you will surely want to know if you can use Amazon there.
So is Amazon in France? Yes, it is! But more importantly: How can I get Amazon France in English?
How to View Amazon France in English
You can view Amazon France in English in 3 ways: By signing into your Amazon account on Amazon.fr, by changing the country and language within the settings menu or on the web browser, or by using the Help in English page on Amazon.fr.
In this article, we will go through each of these options step by step so you can confidently view Amazon France in English, and we will learn how to buy from Amazon France, as well as everything else you could need to know about Amazon.fr!
How to Change Amazon.fr to English
As you now know, there are 3 simple ways to change Amazon France to English if you are using the site in France. In this section, we have the various options you can use and their detailed instructions so you can start enjoying Amazon.fr in English!
Sign in to Your Amazon Account on Amazon.fr
If you already have an Amazon or Amazon Prime account set up in the United States, it is likely that by simply signing in, Amazon.fr will be displayed in your preferred language, English.
Here's what you need to do:
Open Amazon.fr on your web browser.
Even though it's in French, just enter your email and password as you normally would.
The page should appear in English!
If it doesn't, and you do not understand French, don't worry; the following solutions are incredibly easy!
Changing the Language Settings
On many web browsers, such as Google Chrome, there will be an option to translate the language with just one click.
On the top right corner of the web browser, within the address bar, you will see a small icon that looks like 2 mini pages. Just click that icon, and it will ask you if you'd like to translate the page into English.
If you do not see the icon, you can change the language settings on Amazon.fr by clicking the "Compte et Listes" menu on the top right corner of the page.
Then simply follow these instructions:
Select the menu option that says "pays et langue."
Look for the American or UK flag or the word English.
Click to translate the page.
Although this should do the trick, there are some users who have experienced trouble changing the language from French to English on Amazon France. If you cannot seem to figure it out, there is a final option to try.
Use the Help in English Page
Amazon France has a specific page that will always appear in English, even if you can't change the language settings yourself.
The Help in English Page on Amazon.fr will ensure you can place an order, manage your account, initiate a return or refund, and help track your order if need be.
Is There a French Version of Amazon?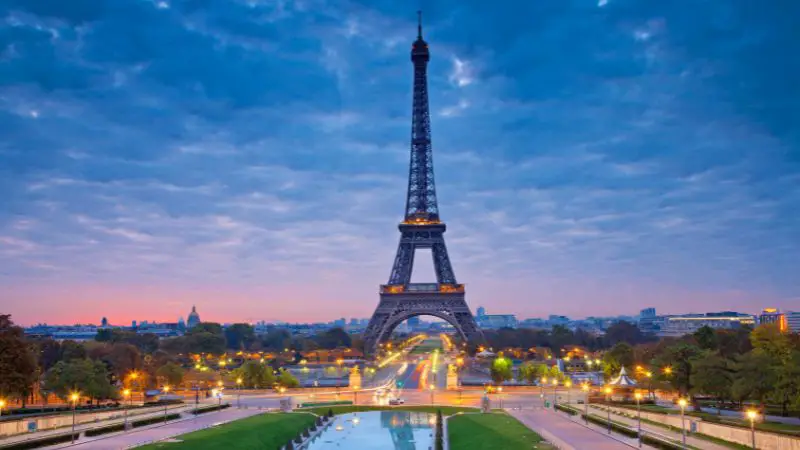 If you are in France on a beautiful holiday and you want to purchase something on Amazon, you absolutely can!
Amazon.fr is Amazon's French site that offers all the same benefits as Amazon.com. While it may not have the exact items available in the USA, you can almost certainly find what you are looking for while abroad.
If you need to get your new item sent to your address in France, simply add a new shipping address and wait for it to be delivered!
If you need to manage your Amazon account while you are away, all of your same information will be available on Amazon.fr when you log in with your American Amazon login information.
How to Buy From Amazon France
Buying from Amazon France is actually quite easy! The process is almost identical to buying from Amazon in your home country.
Sign into your Amazon account on Amazon.fr.
Translate the page if necessary, or navigate to the Help in English Page.
If you want the items you are purchasing to be delivered to your vacation address in France, click the "Deliver To" box on the top left corner of the page.
Enter your address in France.
Choose the items you would like to buy.
Select your payment method if necessary (Amazon will still have your card details ready to use.)
Choose your delivery time.
That's all there is to it! You will receive your package from Amazon France in just a few days.
Is Amazon France Reliable?
Amazon as a company is known to be extremely reliable, and in the United States, users have reported that they almost always get their Amazon deliveries on time.
However, Amazon France users have had a slightly different experience. There are many reports that state Amazon France does not offer as quick and reliable delivery as Amazon USA.
If you are in a rush, i.e., leaving your current location in France soon, it's important to give the package a few extra days to arrive from the promised delivery date.
Does Amazon Have Prime in France?
Amazon does have Prime in France, and while there are slightly fewer memberships than in the USA, many French residents use Prime to watch their favorite videos, listen to Amazon Music, and purchase items with free delivery, just as we do in the USA.
If you have an Amazon Prime membership, you might be wondering: Can you use your normal Amazon Prime in France?
The answer is yes, you can use your normal Amazon Prime when in France. Does Amazon Have Prime in France? However, there are certain aspects of the subscription that will not work in the same way.
For example, only certain titles on Amazon Prime Video and Amazon Music will be available with your membership while you are in France. As well, shipping is slightly different, and you will not be ensured a 2-day delivery with your membership like you are when you are in the United States.
Does Amazon US Ship to France?
If you want to use Amazon.com (or Amazon US) as your Amazon home page instead of Amazon.fr, you can still ship your purchased items to France!
In order to ship to France from Amazon US, here's what you need to do:
Log in to your Amazon account on Amazon.com.
Click on the Accounts & Lists menu at the top right corner of the screen.
Select Your Accounts.
Click Ordering & Shipping Preferences.
Select Your Addresses.
Click Add A New Address.
First, change the country to France.
Enter the address.
Click Add Address at the bottom of the page.
Select Set As Default.
Now you can shop to your heart's desire, and Amazon will only show you items that can be delivered to your address in France.
It's important to note that next time you want to send something to your address in the US, you will have to change your default address back to your home address to be shown items that are available in your area and ensure they don't get sent to France!
Shipping times to France can be slightly longer than when ordering to the USA. When you place your order, Amazon will clearly state the expected delivery date, but it's important to note that Amazon France has been known not to be quite as reliable when it comes to exact delivery dates.
You might be wondering if it's better to order from Amazon US or Amazon France in order to efficiently get your items ordered and delivered to France.
The truth is, it really depends on the item you are purchasing. Once you enter a French address, Amazon will show you items that are available in France, as well as some that will be shipped from the USA across the Atlantic. For those items located in the USA, it could be quite a bit more expensive because of the distance they have to travel.
If you want to save a bit of money, you should only choose items that are being shipped from France to France, and if it seems like too much work to have to weed through the items being shipped from the US, you can just sign into Amazon.fr instead.
Can I Order Something From Amazon France in the US?
If you are in the US and found something on Amazon.fr that you want, it is possible that you could have it sent to your address in the US!
When you sign in on Amazon.fr, it's important that the first thing you do is change your default address to the US location where you want the items sent.
After that, the site will only portray items that can be sent to the US, so you don't need to read the fine print to ensure international shipping is possible.
How Fast Is Shipping From Amazon France to the US?
It's also essential that you understand that shipping from France to the US will take slightly longer than a standard Amazon 2 to 3-day shipment.
Amazon states that shipping from France to the US will take up to 15 business days for standard delivery times; if you opt for priority shipping and pay a little extra, your items could arrive in as little as 5 days!
Conclusion
In order to view Amazon France in English, there are a few options: Directly translate the page on your web browser, adjust your country and language settings, sign into your Amazon account on Amazon.fr, or you can access the Help in English page.