Amazon guarantees fast and stress-free delivery for packages, offering one of the easiest and most comfortable online services. But Amazon only ships 67 percent of the 1.6 million packages they deliver daily themselves. How does Amazon ship the rest of the packages? Does Amazon Use USPS?
Does Amazon Use USPS?
Amazon uses USPS to deliver packages. This e-commerce giant outsources some of its package delivery to USPS to be able to meet up with growing demand. The USPS handles and delivers more than half of Amazon packages, including those delivered within the United States and other parts of the world.
Amazon had a contractual agreement with the USPS delivery company since 2013 to handle deliveries for packages. But why does Amazon use USPS, and does USPS deliver Amazon prime packages? Keep reading to find out.
Why Does Amazon Use USPS?
Amazon uses USPS to deliver packages because of the large number of orders Amazon has to fulfill and deliver daily.
The USPS ranked the second highest company with last-mile deliveries and deliveries to remote areas. So, one of the major reasons Amazon uses USPS is to deliver packages to rural areas that Amazon delivery services cannot reach yet. This is called last-mile delivery.
How does this work? Amazon takes the package from the fulfillment center to the local Post Office distribution center, and then USPS picks it up and makes the last-mile delivery to your address.
Since Amazon cannot yet deliver packages to far-flung addresses, they rely on USPS for these types of deliveries because USPS has a more extensive delivery network. This way, Amazon can deliver to rural areas because of its partnership with USPS
Another reason Amazon uses USPS for deliveries is that it makes excellent business sense. With this strategy, Amazon can save money and maximize profits.
For example, it costs Amazon more (about 1.4 to 5 times) to deliver to rural areas than urban homes. But with USPS, it is cheaper for Amazon to make these deliveries.
Amazon also uses USPS to deliver on Sundays and holidays and allows customers to track packages delivered by USPS. So, while USPS does not deliver letters or mail on Sundays, they exclusively deliver Amazon packages, generating more revenue.
Does USPS Deliver Amazon Prime Packages?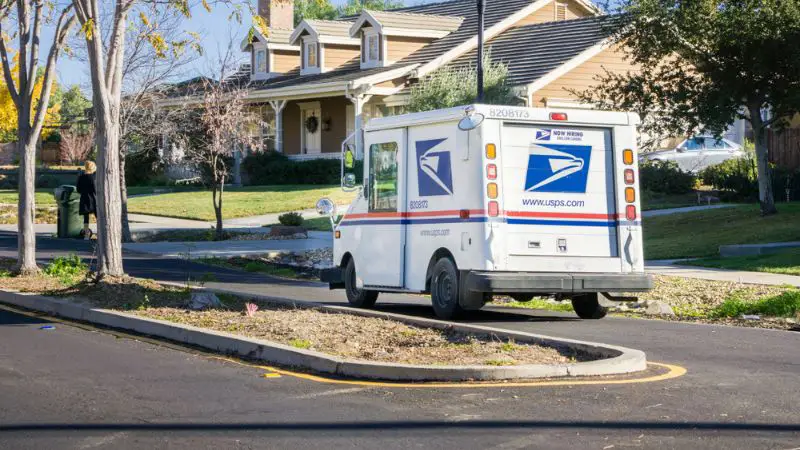 USPS delivers some Amazon Prime packages because Amazon and USPS have a contractual agreement to that effect. USPS also delivers seller-fulfilled Prime orders.
Here's how Amazon treats Prime deliveries through USPS differently from other deliveries. For standard packages, Amazon routes the packages through mail sorting and distribution. However, for Prime packages, Amazon truck drivers take the packages directly to the local Post office.
So, for Prime deliveries, USPS will pick up the package from the local post office, and then your order shows that it's "In Transit." The status then changes to "Out for Delivery" after they're ready to deliver it to your address.
Benefits from Amazon Shipping Through USPS
Here are some benefits Amazon enjoys from shipping via USPS:
It is cost-effective: USPS offers a low-price rate for Amazon deliveries to every location, including remote areas. This way, USPS has helped Amazon to save money on shipping.
It has one of the highest records of deliveries, including home deliveries: Because USPS has an extensive delivery network, it can deliver to areas where Amazon cannot currently deliver effectively.
It delivers packages with heavy weight: Amazon can use USPS to deliver packages up to 70 pounds.
USPS has also benefited from Amazon's partnership. For example, because of USPS's partnership with Amazon, USPS stays afloat despite reducing mail volume and budget cuts. Amazon helps USPS effectively utilize its existing delivery network and pays them for it.
Why Don't Some People Want USPS to Ship Their Amazon Packages?
Although USPS and Amazon have a great relationship, and you can easily track your package when delivered through USPS, people sometimes don't want USPS to Ship Their Amazon packages. And this is for many reasons.
One of the reasons why some people choose other shipping services over USPS on Amazon is because of late delivery.
Amazon is rated the giant of e-commerce majorly because of its fast delivery. However, deliveries with USPS may sometimes be delayed because of the large number of deliveries they have to handle.
This delay in delivery has caused so much disappointment to customers, primarily when packages are delivered 2-3 days after the expected delivery day.
In light of the challenges the USPS shipping company faces, you can consider using other alternatives to USPS shipping on Amazon.
Keep reading to learn how to make Amazon not ship USPS.
Alternatives to USPS Shipping on Amazon
If you don't want to use USPS to Ship your Amazon package for any reason, there are other alternatives to USPS shipping on Amazon that you can use.
Here is a list of alternative shipping options aside from USPS to help you with your shipment on Amazon:
UPS is one of the most popular shipping services for Amazon sellers. The company has a reputation for being reliable and reasonably priced, which makes it an excellent option for buyers who need to ship their purchases quickly.
DHL shipping is an excellent option for customers who want their packages as quickly and reliably as possible. DHL shipping could be best for you if you're looking for something faster than USPS but less expensive than FedEx. DHL offers similar services as FedEx but at a lower price tag—sometimes, they are more reliable.
FedEx is a popular alternative to the USPS shipping service on Amazon. The advantage of FedEx over USPS is that it offers faster delivery times. FedEx also has a wide selection of shipping options, including overnight, 2-day, and 3-day shipments.
You can choose the delivery type you want on Amazon. To select a delivery preference on Amazon, follow the following steps:
Go to "Your Account page,"
Select "Your Address,"
Select the address for which you want to set delivery preference,
Select "Edit delivery preferences," and
Input the type of delivery of your choice.
You can also track your package and know when it will arrive on specific days and times—in real-time. This is especially handy if you need your goods delivered in a hurry or if you live in an area with lots of delays due to bad weather conditions or other factors.
Conclusion
Amazon offers reliable services for customers, using different shipping companies to satisfy demands. Over the years, the USPS shipping company has been one of the commonly used shipping companies by Amazon to handle its packages. This is because of the company's high record of deliveries and cheaper delivery options.