Amazon delivers packages to 100+ countries and regions outside of the United States.
However, if you reside in Alaska, a noncontiguous US state, you might wonder if it is possible to order items from Amazon and deliver them to your destination. So, does Amazon deliver to Alaska?
Does Amazon Deliver to Alaska?
While Amazon delivers to Alaska, certain factors, such as dimensional shipping limits, large items, and hazardous materials, can affect deliveries. Standard delivery to Alaska can take 3–7 business days and cost $5 to $13 per shipment, and Prime Members get free delivery to Alaska.
Amazon can deliver your package to Alaska as long as the items in the package do not violate any requirements for shipping to Alaska. Keep reading to find out more about Amazon deliveries to Alaska.
How Fast Does Amazon Ship to Alaska?
Generally, how long it takes to ship Amazon products to Alaska depends on the address and the shipping method you choose.
For instance, if you choose standard shipping, shipping may take around 3–7 business days. Expedited shipping may arrive in 2–5 business days. And priority shipping will take 1-4 business days.
Standard shipping to Alaska costs between $5 to $13 per shipment; Expedited shipping costs $16 to $21 per shipment, and priority shipping costs $22 to $33 per shipment.
While Prime Members in Alaska still get the standard free shipping, they do not get the 2-day delivery guarantee. It takes about 3–7 business days for their items to arrive.
How Do I Choose Delivery to Alaska From Amazon?
Two methods ensure your items are delivered to Alaska from Amazon.
The first method ensures that your default address is set in Alaska. Here's how to put in an address in Alaska when ordering on Amazon:
Go to "account & lists", then click accounts
Under the "ordering and shopping preference" list, go to "1-click settings."
You can then input your Alaska address to display the shipped items.
The second method to get items shipped from Amazon to Alaska is to use a package forwarding company near you. The steps to using this service include
Open an account with the appropriate company to use a package forwarder.
Your Amazon order will be accepted at their warehouse and sent to your Alaska address.
You will receive alerts via your mobile device or email if there's a new update on your purchase location.
You will then be able to choose the time for the delivery of your shipment when the goods reach the forwarder's address in the U.S and whether you want insurance on the goods or not.
Can Amazon Ship All Items to Alaska?
Amazon can not ship all items to Alaska. Whether your items will be shipped depends on special considerations such as the item's weight, the package's content, and the address.
Here's a list of items that can be shipped:
Boat spare parts
Apparel
Beauty
Shoes
Jewelry
Loose stones
Toys
VHS
Videos
Video games
CDs and DVD
Computers
Cell phones
Accessories
Electronics
Furniture
Grocery
Health and personal care
Amazon gift cards
Pet supplies
Office products
Automotive. Etc.
Most items that cannot be shipped include heavy items, oversized items, oddly shaped items, and toxic and dangerous substances. Some common examples are:
Explosives
Gases
Flammables
Toxic and infectious items
Items hazardous to public health
Check out the restrictions for Amazon shipping to Alaska to consider the eligibility of your item for shipping before going ahead and buying.
Is There an Amazon Warehouse in Alaska?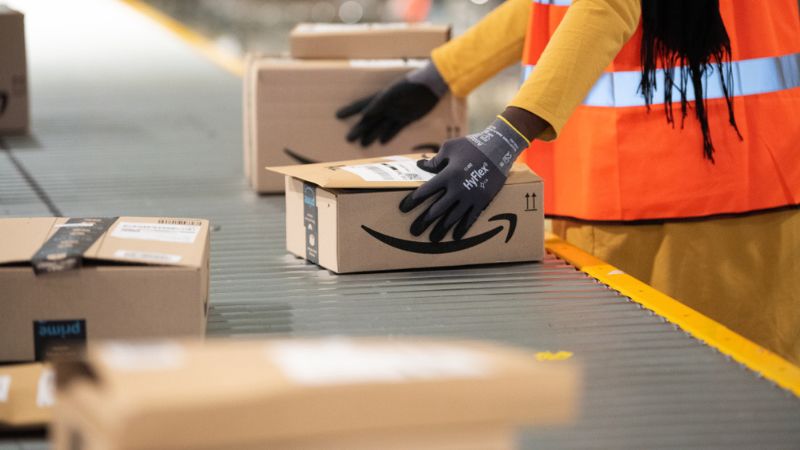 Amazon does not have a warehouse in Alaska. However, they have an air freight gateway hub, and this is at the Fairbank International Airport, Fairbanks, Alaska.
This can help Amazon deliver packages to Alaska faster and also help them service parts of Alaska they couldn't previously reach.
Does Amazon Prime Shipping Include Alaska?
Amazon prime shipping includes Alaska. Amazon Prime customers in Alaska enjoy free or hugely discounted deliveries.
While Prime Members in the other contiguous U.S. states have access to same-day, one, and two-day deliveries, Alaskan Prime Members should expect deliveries to take a little longer due to the distance. Usually, Prime Members have to wait for 3–7 days for Amazon deliveries to Alaska.
How Much Does Amazon Shipping to Alaska Cost?
The item and the selected shipping method can influence the time and cost of shipping to Alaska.
Standard shipping to Alaska generally costs between $5 to $13 per shipment; Expedited shipping costs typically between $16 to $21 per shipment; Priority shipping costs between $22 to $33 per shipment.
Amazon Prime members get free delivery for standard shipping and a discounted delivery rate for expedited and priority shipping.
Is Amazon Prime Worth it in Alaska?
Amazon Prime is worth it in Alaska. Amazon Prime has a good reputation for free and fast delivery in the U.S., and Amazon Prime customers in Alaska enjoy almost the same experience—free and quick delivery.
Amazon Prime also comes with other mouth-watering benefits such as free videos, books, photos, Netflix, and other exclusive offers that Alaska members can enjoy.
How to Return Amazon Deliveries to Alaska?
Items can be returned within 30 days of receipt of delivery. However, it can take up to 25 days for an item to reach Amazon and an additional seven business days for the refund to show in your account.
Returning Amazon packages is not expensive and, sometimes, free. The following are the methods for returning Amazon deliveries to Alaska:
UPS pickup: Once amazon accepts your reason for returns, you'll be given a UPS label with a QR code. Package the item, hand it over to the UPS driver at your doorstep, and have them scan the label.
DHL express pickup: visit Your Orders to select your pickup option. Amazon will send return instructions to your email. After 30 minutes, visit the MyDHL+ website to choose a pickup schedule that works for you.
DHL Express dropoff: you can also drop off goods at locations convenient for you, according to your location. You should choose a convenient drop-off location.
Conclusion
Amazon delivers items to Alaska as long as there are no restrictions on its shipping. It takes about 3–7 business days to deliver items to Alaska, costing $5 to $13. Expedited and Priority shipping options are available, and Prime Members in Alaska enjoy free shipping.