Amazon seems to sell almost everything imaginable on its e-commerce platform. In fact, there are over 12 million products available on Amazon! However, there are a few items that the company does not sell, and usually, it's for a good reason.
Now, you might be wondering: Does Amazon sell contact lenses?
Does Amazon Sell Contact Lenses?
Amazon does not sell contact lenses. Because legally, everyone needs a prescription from a verified optometrist to order contact lenses online, Amazon cannot legally or safely sell lenses. Amazon does sell a variety of eye care products and even glasses, but they cannot sell contact lenses.
In this article, we are going to discuss everything you need to know about why you can't buy contact lenses on Amazon, what eye care products you can purchase on Amazon, and where you can find contacts for sale online.
Why Does Amazon No Longer Sell Contact Lenses?
It is a common misconception that Amazon ever sold prescription contact lenses; what they did sell were colored contact lenses which did not help with vision but instead simply changed the apparent color of your iris.
However, several years ago, Amazon discontinued selling colored contacts for the health and safety of its customers. There has been some debate as to why the conglomerate stopped selling colored contacts, as they are strictly cosmetic and not technically medical, but Amazon has simply stated that "they do not meet the checklist requirements."
Amazon does not sell contact lenses because it would be illegal without a prescription from a verified optometrist. Although Amazon claims not selling contact or colored lenses is for the health and safety of their customers, it's more likely that they simply aren't allowed to.
Were Colored Contact off Amazon Safe?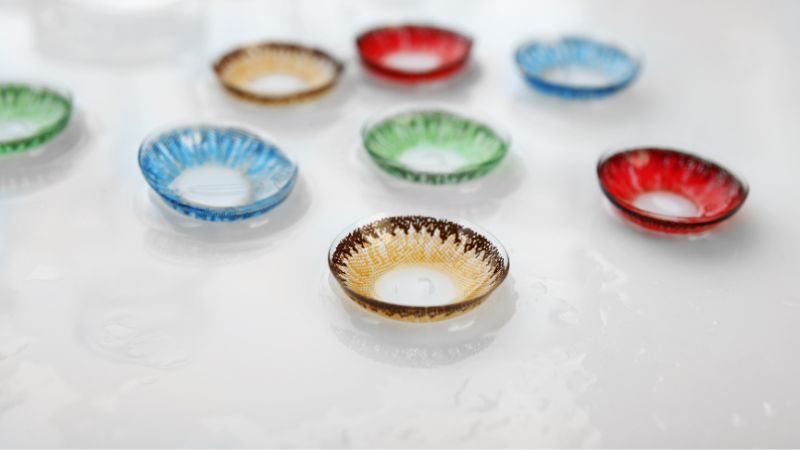 Colored contacts were extremely popular for a period of time, and most consumers simply saw them as cosmetic instead of medical, as they do not come with a prescription for sight.
Unfortunately, many colored contacts users were using them unsafely and incorrectly, and in some cases, medical problems did occur.
While technically, the colored contacts Amazon was selling were not unsafe because people did not know how to use them properly, they proved to be dangerous for many.
Can You Buy Contact Lenses Online?
Even though you cannot buy contact lenses on Amazon, there are several other online marketplaces that do sell contact lenses.
If you do not want to go to an optometrist to order your contacts, you can find them at one of these many sites:
1-800 Contacts
ContactsDirect
Lens.com
LensCrafters
Warby Parker
Contact Lens King
Eyeconic
Hubble Contacts
It's important to note that in order to purchase contact lenses on one of these sites, you will need an up-to-date prescription from a verified optometrist.
You may be wondering: Why can these online stores sell contact lenses and Amazon can't?
In order for contact lens sales to be legal online, the company must be approved by the Food and Drug Administration (FDA) and Federal Trade Commission (FTC) as a safe medical supply center.
These companies have been approved and, by requiring your prescription, ensure that the contacts you ordered are safe for your eyes and correct for your needs.
Some of these sites, such as 1-800 Contacts, even offer online eye tests to verify your prescription to be sure you are getting the right contact lenses for your eyes!
What Eyecare Products Does Amazon Sell?
Amazon can and does sell several eye care products from various brand names that can help keep your contact lenses safe and your eyes healthy!
Here are the eye care products Amazon sells:
Eye Vitamin and Mineral Supplements
Contact Solution
Contact Lens Cases
Contact Insertion and Removal Tools
Redness & Itch Relievers
As always, you can find most of your favorite eye care products on Amazon and have them delivered within days directly to your home.
Does Amazon Sell Glasses?
It may surprise you to know that although Amazon is legally not allowed to sell contact lenses, they can and do sell glasses.
The reason why Amazon can sell prescription glasses and not contacts is because glasses are not dangerous if you get the prescription wrong, and there is no way to really use them incorrectly. Of course, if they are not correct, you may not be able to see, but your eyes will not be in danger.
Amazon sells most brand-name glasses that you could find at an optometrist and the price can vary depending on the make, model, and quality of the glasses.
Some of the popular glasses brands Amazon sells include:
Ralph Lauren
Armani
Ray-Ban
Oakley
Michael Kors
Gucci
As with any product, some are certainly better than others. So it's important to do a little research and read reviews when it comes to glasses brands to find out if they are going to be worth the price tag.
Typically, making purchases on Amazon means that you can save quite a bit of cash as their products are almost always cheaper than in-store options. The same goes for glasses; you just may be able to find your perfect pair for a fraction of the cost of the optometrist's office.
Conclusion
Amazon does not sell contact lenses as they have not been approved by the FDA and the FCT to sell prescription lenses. For the health and safety of its customers, Amazon doesn't plan to offer contact lenses, however, they do sell eyeglasses with a valid prescription from a verified optometrist.