Amazon has over a million employees and is one of the companies with the highest number of employees in the United States. While it is unclear how many of these workers work remotely, Amazon embraces the work-from-home practice. So, what is Amazon's work-from-home hiring process, and how can you get started?
Amazon Work From Home Hiring Process
To get an Amazon work-from-home job, Amazon requires you to go to Amazon.jobs, complete an online application, and take a workstyle assessment. Amazon requires a video interview before they hire for most positions, and the entire process might take anywhere from a few weeks to a few months.
Log in to amazon.jobs to search for available job listings.
When you find the job you are interested in, click "Apply."
Create your profile on the page.
Include your contact information and answer all the questions you'll be asked.
Upload your resume/CV. This isn't a necessary field (you can still apply without a resume).
Answer the screening questions about the job you want to be hired for.
Take the work style assessment.
Do an interactive virtual simulation for the job you applied for.
Take a technical assessment, depending on the role you're assuming.
Take the interview if you qualify.
Wait to hear back from Amazon.
But how long does it take to hear back from Amazon after you apply, and how much does Amazon pay remote workers? Keep reading this full guide to see all you need to know about Amazon work from home hiring process.
1. Prepare to Apply for a Work From Home Job on Amazon
Like every other job, you must be sure that you are ready to take on the remote job you want to apply for on Amazon. When you have the right qualifications for the job, Amazon can pick interest in your application and employ you.
You must be able to show your qualifications and skills on paper (your CV/Resume) and in real life (during virtual simulations and interviews). Here's how to prepare to apply for your preferred work-from-home role at Amazon.
Check amazon.jobs for job listings on the available remote jobs.
Prepare your CV/resume as you may need to upload it.
Research the job or role you want to apply for so you'll be equipped with the necessary information about the job description.
Watch interviews on YouTube to prepare for the virtual interactive session you'll have during the work simulation process and the interview.
2. Log into amazon.jobs and create your profile
To begin the hiring process, you must first create your profile on amazon.jobs, where you can find all the jobs available on Amazon. You can check out some Amazon work-from-home jobs to find specific remote jobs you want to apply to.
Once you have found the job you want to apply for, you can upload your resume or Linkedin profile. Including keywords related to the role you're applying for is essential, as Amazon uses Applicant Tracking Systems (ATS) software to screen candidates' profiles at this stage.
If you don't have a resume, fill in your experience (including employment dates), background, skills, and educational achievements. If you don't fill in this information, Amazon may not consider your application.
If you already have a profile on Amazon but now have new work experiences or skills, you should update your CV/resume.
Once you have uploaded your CV, select the position you'd like to apply for and click "Apply Now." There are three statuses on the Amazon application portal showing your application status:
Application submitted: Amazon has received your application but has yet to look through it.
Under consideration: Amazon is reviewing your application and may pass you on to the next stage if you qualify.
No longer under consideration: Amazon is no longer reviewing your application, and you're no longer considered for the job. You may have to review your resume if you get this.
If you don't qualify for this role, Amazon may notify you if other job openings suit your profile.
3. Take the work style assessment.
After completing your profile, Amazon requires you to take an assessment based on your work style. This assessment test is a personality test that shows how your work style merges with Amazon's leadership principles.
The assessment also evaluates your work qualities and preferences to determine if you can sustain Amazon's unique culture and comes before other evaluations at Amazon.
The assessment can take about 15 minutes to complete. Be honest to tell them which pair of statements is more like you or most like you.
Amazon hires fewer than 2% of applicants. So, knowing what they need, learning the 14 leadership principles, and knowing what team to join can give you the needed boost. Also, with Amazon actively hiring remote workers, you may have better chances now than ever.
4. Do the interactive virtual simulation.
An interactive virtual simulation immerses applicants in key job roles so they can perform tasks on the actual job and solve real workplace problems.
This aspect of the hiring process assesses how fit you are for the role you want to take. It tests certain skills you are expected to possess, such as the ability to process data, problem-solving skills, etc.
Depending on the role you are taking, the duration of this assessment could be 20 minutes to 1 hour. If Amazon approves your application and you ace the tests, you'll be invited for an interview as a phone conversation or a video session.
5. Take the interview
Amazon's interview is usually a phone interview or a video session with a senior member working with the team you are applying to join at Amazon. This interview helps them to evaluate how sincere you are about the skills you claim to possess in your application.
Some common questions to expect during the interview session include:
Why do you choose to work with Amazon?
Was there a time you failed? What was it like?
Which among the leadership principles of Amazon do you sync with most?
It is important to be confident and natural while you answer the questions, as this is an important tip to do well in the interview. But how many interviews should you expect? You may have one or two interviews, after which Amazon will notify you if you qualify for the position.
6. Wait for feedback from Amazon.
If the interview went well, the Human Resource department at Amazon should email you that you have been accepted to join Amazon.
The email would contain all the information you need about the day you are expected to start work, your salary, and your work hours. This should be within a week after the interview.
People who have gone through Amazon's work from home hiring process report that the response was prompt enough, considering the number of applicants being reviewed for hire.
While the virtual hiring process is not tough, it can take a lot of time, depending on how quickly Amazon reviews your application. Usually, the entire process might take anywhere from a few weeks to a few months, depending on how urgently they need the role filled.
How to Prepare to Work from Home on Your New Job
Preparing your workspace to be effective when you resume your new remote job at Amazon is important. Since Amazon demands high work standards, it will be bad if you show signs of shoddiness at the start of your new job.
For example, your home workspace should have as few distractions as possible, especially if you have friends and family at home during work hours.
Amazon may also be interested in certain measures you have set up to ensure your work-from-home is effective, which is why you must prepare. Here are some preparations to work effectively from home.
Set up a functional workspace at home exclusively for your working hours.
Ensure a good internet connection and low noise (depending on your job role).
Be ready to communicate during work hours via video or conference call with your team as the situation demands it.
If there are people at home with you during work hours, inform them about your new role, so they adjust accordingly.
How Much Would Amazon Pay You to Work from Home?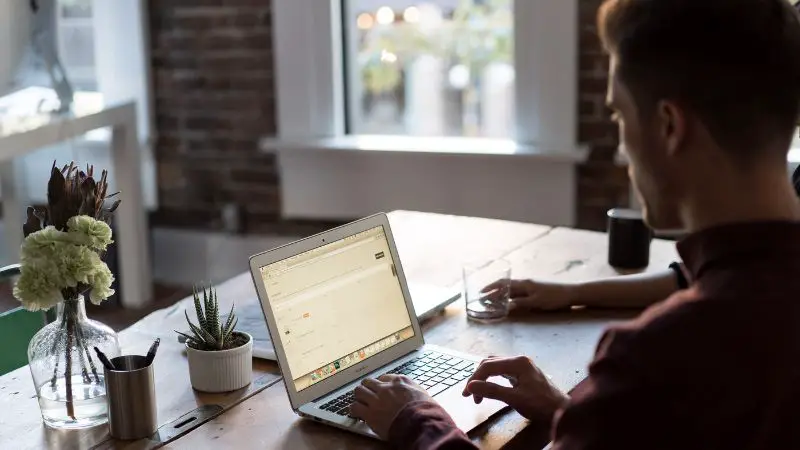 How much Amazon will pay you for your remote job will depend on your position, required skills, experience, and education. Hourly rates generally start at $16 per hour with competitive benefits and compensation packages.
Some benefits you can enjoy are dental, medical, and vision insurance, a 401(k) plan, and other perks like monthly bonuses and discount programs for employees that meet their performance goals.
You can earn about $27/hr working from home if you are an Amazon customer service associate. The average salary for HR jobs is $53,006/year, $67,992/year for recruiters, $105,628/year for online healthcare jobs, and $78,611/year for marketing campaign managers.
Is it possible to negotiate salary during the Amazon hiring process? Yes. You can always direct your questions about salary negotiation to the hiring manager, negotiate your preferred salary during the interview, or ask for a salary review after you've started the job.
Conclusion
Amazon has remote job openings for applicants interested in working from home. You should open or update your profile, complete your application, take the workstyle assessment and virtual work simulation, and prepare for the interview. The entire Amazon hiring process might take a few weeks to a few months.