About 70 percent of Americans do not recycle their old electronics or packaging materials because of recycling confusion and inconvenience.
So what can you do with old items and packaging materials you got from Amazon? Recycle them! Find out all you need to know about Amazon's recycling program!
Does Amazon Have a Recycling Program?
Amazon has two recycling programs that allow customers to recycle packaging materials and any old devices bought on Amazon. Amazon also uses third-party recycling companies to reuse cardboard and plastic for packaging. This is part of Amazon's plan to be the world's most customer-centric, environmentally friendly company.
For a company that delivers millions of packages a day, Amazon is taking steps toward being a sustainable and environmentally friendly company. Read on to know more about Amazon recycling programs, their benefits, and how you can participate.
How Does Amazon Recycling Work?
Amazon understands how important it is to recycle electronics and packaging materials. So, they allow customers to trade in their devices, recycle devices and accessories, and packaging material.
Amazon has two major recycling programs:
Electronics Recycling
Amazon knows how important it is to recycle electronics at the end of their useful life. That's why they offer trade-in and recycling programs for electronics (both Amazon and non-Amazon devices and accessories).
In the trade-in program, Amazon allows you to trade in your old devices in exchange for gift cards or discounts on your next Amazon device purchase. In the recycling program, Amazon directs you to the website of their certified recycler.
Your information about your device will help Amazon generate a UPS shipping label you can print. Follow the packaging guideline and drop your device at the nearest UPS location. The recycling program covers the cost of shipping and recycling.
Packaging Recycling
Amazon allows you to recycle your delivery packages. True to its environmentally friendly outlook as a company, Amazon produces more eco-friendly packaging and ensures that consumers can recycle it easily in regular recycling programs across cities in the United States.
You can recycle the following packaging items in most curbside recycling programs:
Amazon Fresh paper bags
Insulated Paper Envelope
Amazon Fresh water bottle
Amazon Fresh Cardboard Box
Bottom Board
Paper Insulation
Amazon Fresh gel pack and foil bubble insulation bag are not recyclable, so you should put them in your garbage bin. Some cities offer curbside recycling for produce bags. You can drop them off in designated locations where the plastic film is accepted.
How to Participate in the Amazon Recycling Program
Before submitting a device for recycling, here are some things to do.
See if you can trade it in. You can trade in your device for benefits like gift cards and discounts. It doesn't matter if the devices are Amazon or non-Amazon devices or if they are working or not. If you think your device has a trade-in value, visit Amazon Trade-In. If your device does not have any trade-in value, you can go on to recycle it. (start from step 2).
Do a factory reset on the device to remove all personal information. While Amazon will protect your privacy by ensuring that any personal information or identifying marks on the devices are removed before recycling, it doesn't hurt to double-check.
Deregister your device from your account. Remember to back it up before you hit the factory reset button in case you want to transfer the settings to another compatible Amazon device.
Visit Amazon's recycling page to receive a free shipping label that will tell you who your Amazon-approved recycling partner is.
Print your shipping label and mail your electronic package there. Remember, it's free.
Does Amazon Pick Up Empty Boxes?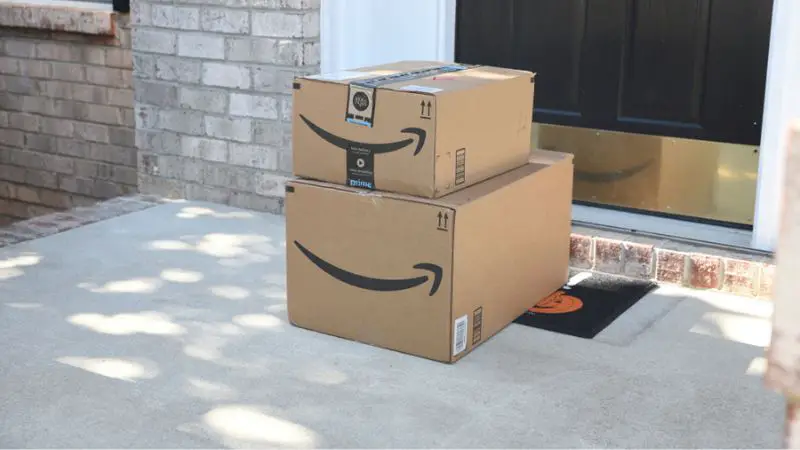 No. Amazon no longer picks up empty boxes, so you're going to decide how best to recycle those empty boxes.
But this doesn't mean Amazon has no plans for its boxes since they are mostly biodegradable. In addition, Amazon has some recycling programs like Give Back Box, where you can schedule a pickup of empty boxes from their website.
How Do I Throw Away Amazon Packaging Without Damaging the Environment?
A good way to dispose of your Amazon packaging would be to recycle it. You can also use Amazon packaging for reshipping, especially when you want to return an item to Amazon.
Amazon has partnered with the charity Give Back Box to allow you to use your boxes to put in clothes and other items you could give away. You can also use most Amazon packaging (like boxes) at home.
What Other Things Does Amazon Do for the Environment?
Amazon's commitment to being a sustainable, ecologically friendly company has driven them to produce more biodegradable packages. Amazon also made the 2019 climate pledge, where it is projected that by 2040, they will have zero net carbon emissions across their business.
Amazon ordered 100,000 electric cars in 2019 and delivered over 2 million packages of electric cars in 2020. Amazon plans to deliver another 100,000 electric cars by 2030.
Conclusion
By participating in Amazon's recycling program, customers can recycle their Amazon and non-Amazon devices, electronics, and Amazon packaging materials at no cost. Amazon does this as part of its goal to become an environmentally responsible business that provides superior service to its customers.