Amazon offers easy ways to ship purchased items. But sometimes, the slated delivery time may not be convenient for customers, or customers may prefer to come and pick up their package to get it earlier. This is where Amazon Locker becomes important. But what does the term "Amazon Locker" mean?
How to Ship to Amazon Locker
To ship to an Amazon Locker, search for the address of the Amazon Locker closest to you on Amazon. Enter this address into your address book and select this location during checkout. Once the package arrives, Amazon will email you a code to retrieve your package from Amazon Locker.
Here are simple steps to follow to ship an Amazon package to the Amazon Hub Locker.
Log in to your Amazon account.
Find the Amazon Hub Locker location closest to you by browsing the Amazon Locker delivery page. Use the "Find a locker near you" button.
You can get a locker by address, landmark, ZIP code, or locker name on this search page. Select the Search button to search for your new Amazon pickup location.
Follow the prompts to choose your city.
Choose any city or location of your choice. This saves it to your Amazon address book.
Select this address (the Amazon Hub Locker delivery address) as your default location.
Select the items you want to order and confirm the Amazon Locker as your shipping address.
If you ship your item to an Amazon Locker, you may be able to pick it up faster once it arrives. Keep reading to see whether or not you must be a Prime member to ship to Amazon Hub Locker and if it costs you money to use this service.
Can I Ship Something to an Amazon Locker?
You can ship items to an Amazon locker and use it as your default address. You can use this shipping method if you want to pick up items faster rather than have Amazon deliver to your address and if you don't want to make your address public.
However, not all items can ship or be delivered to an Amazon Locker. Here are some of the criteria your item or package must meet before you can use the Amazon Hub Locker shipping option. The Amazon Locker shipping criteria include:
The order does not weigh up to 10 pounds
The item must not be shipped from another country
The dimension must not be up to 16 × 12 × 14 inches
All the items in the package must be sold and fulfilled by Amazon.com
The value of all the items must not be up to $5,000.
There must not be any hazardous materials in the package
There must not be any Subscribe and Save items in the order.
There are no items for release-date delivery in the order.
So, you may be unable to ship heavy items like computers, desks, televisions, refrigerators, and other items to the Amazon Hub Locker.
You can pick up your Amazon package at the selected Amazon Hub Locker or send someone else to pick it up. Once the package arrives, Amazon will email you the six-digit code to retrieve the package from the Amazon Hub Locker.
Without the code, you won't be able to unlock the locker and retrieve the package.
Can You Ship to an Amazon Locker Without Prime?
You can ship to an Amazon Locker without a prime subscription. But when you ship to an Amazon Locker, you must pick it up in 3 days or less as Amazon Locker cannot serve as a storage facility for items, and Amazon will return the package to their facility.
Subscribing to Amazon Prime may have some advantages, as shipping to the Amazon Hub Locker may take less time, and you can also pick up your items early.
Does It Cost Money to Use an Amazon Locker?
Using Amazon Locker requires no extra or additional charges. It is free, and you only have to pay the normal shipping fee.
The major difference between shipping your package to Amazon Locker and shipping it directly to your doorstep is that Amazon allows you to pick up your item anytime you want (within three days after arrival).
So, if you feel a delivery to your home address is unsafe, especially when you're not home, you can use Amazon Locker as an alternative.
Once your package is shipped to an Amazon Locker, you will receive a delivery confirmation through your email from Amazon. The content of the email includes the Amazon Locker address, drop-off code, and opening time for the Amazon Hub Locker to which your package is delivered.
Amazon Locker Near Me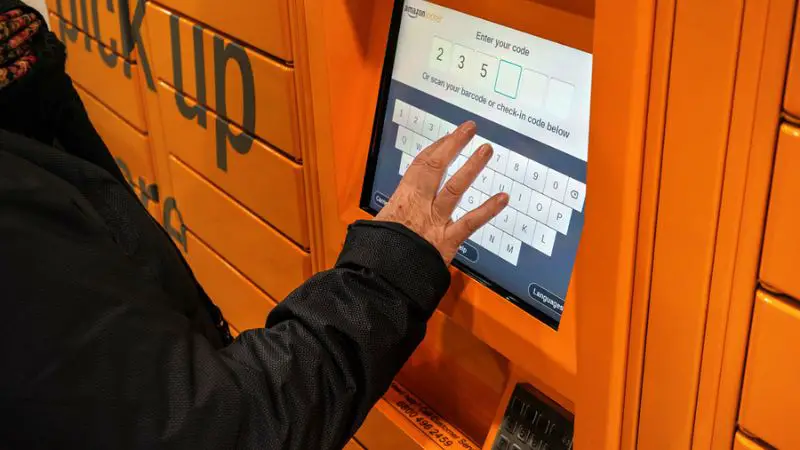 How can you search for and identify Amazon Locker locations near you? There are over two thousand Amazon Lockers in the United States.
You can locate an Amazon Hub Locker near you when you add a new address to your Amazon account or when choosing a delivery location during the checkout process.
Here are the necessary steps to follow to find out if an Amazon Hub Locker is in your location:
Ensure your Amazon package is eligible for delivery to an Amazon Locker. Once this requirement is fulfilled;
Select Search for a Locker location on the Amazon website;
Amazon Locker will be displayed in the search result if it is available in the location you searched for;
You can also either search by address or landmark;
The search results will show available locations;
You can then choose the Amazon Hub Locker location you want your Amazon package to be shipped to by choosing the "Ship to this address" option once the address is already in your address book.
How to Change Amazon Hub Account and Email
Here are the steps you must take to change your Amazon Hub Account:
Go to the Login & Security in your Amazon Hub account;
Click on the Edit option;
Then go through the displayed instructions and choose the Save Changes option;
Once you have completed the above stages, select Done.
Also, to change your email on your Amazon Hub Account, follow these steps:
Open your Amazon Hub Account;
Click on Login & Security;
Then input your password;
Click on the Sign In option;
Select the Edit option, which is next to your email section;
Input the new email address you want to replace the previous email address within the appropriate fields.
Input the Passcode of your account;
Input the Security Characters displayed;
Click on Save Changes;
Go back to the login & security page to click on Done.
How to Cancel Amazon Hub Locker
When checking out, you can cancel or delete your Amazon Hub Locker by choosing the "Change Link" menu next to your Amazon lower Locker confirmation.
Below are the steps to follow to cancel your Amazon Hub Locker:
Select Close Your Amazon Account on Amazon;
Login to the account you wish to cancel or delete;
Go through the products and services related to your account;
After reviewing the goods and services that are related to your account, you can proceed to the next option;
Click on Reason in the menu bar displayed;
Then click on the box with the Yes, I want to close my Amazon account and delete my data permanently;
Click on Close my Account to execute your action.
Why Are Some Items Not Eligible for Amazon Locker?
Some items are not eligible for the Amazon Locker due to their weight or size. As it is referred to, an Amazon Hub Locker is a locker that limits the size and weight of products or packages it can accommodate.
Items, packages, or products bigger than the standard size of the Amazon Locker, 16 by 12 by 14 inches, will be denied the Amazon Hub Locker service. Also, the package must weigh less than 10 pounds.
Can You Use Amazon Locker for Non-Amazon Packages?
Amazon Locker does not accept packages that are not from Amazon, and only Amazon customers can use this service.
Where you did not order the package from Amazon, the package cannot be picked up or returned using Amazon Hub Locker.
Conclusion
You can ship your package to an Amazon Locker if it meets the criteria. Select the Amazon Hub Locker closest to you and confirm the address before checking out. When your package arrives, Amazon will send you an email with a code to retrieve your package.
Welcome to CompanyScouts! I am Jake, the founder of CompanyScouts. I hold an Msc in Economics and Business Administration. With a deep interest in the consumer segment, I strive to help people get to know their favorite companies even better.