When shopping on Amazon, it's always fun to see what other people recommend. After all, you know a product is good when you scroll through all the positive reviews it has!
As Amazon knows that many people are influenced by bloggers and influencers, they have set up an area on their marketplace where influencers can share their own top picks to buy. Below, we explain exactly how you can find and follow influencers on Amazon!
How to Follow Influencers on Amazon
To follow influencers on Amazon, you can go to Amazon's #FoundItOnAmazon page. On this page, you will see graphics and lists that influencers create and share. You can then find influencers, click on their page, and follow them if you choose to. Once you follow them, you'll see more recommendations!
There's a lot you should know about influencers, how to find them, and what happens when you follow them. Below, we explain even more!
Amazon's Follow Feature
Amazon knows that so many people enjoy seeing what various influencers recommend on Amazon. So, they've made it easy for influencers to share their own favorite items and lists or boards.
Sometimes, you might find an influencer that you really like. They have great opinions and have so many lists. Is there a way to follow them to stay in contact and see what other future lists and recommendations they make?
Yes, there is! Amazon has created a follow feature for this reason. You can now easily follow as many influencers as you want on Amazon. Once you follow them, you will then get to easily see whenever they create and share new ideas, as you'll be notified.
In a way, this is similar to what happens when you follow others on social media. However, this is only on Amazon. You can see if the influencer has any linked social media accounts or websites if you'd like to follow them elsewhere!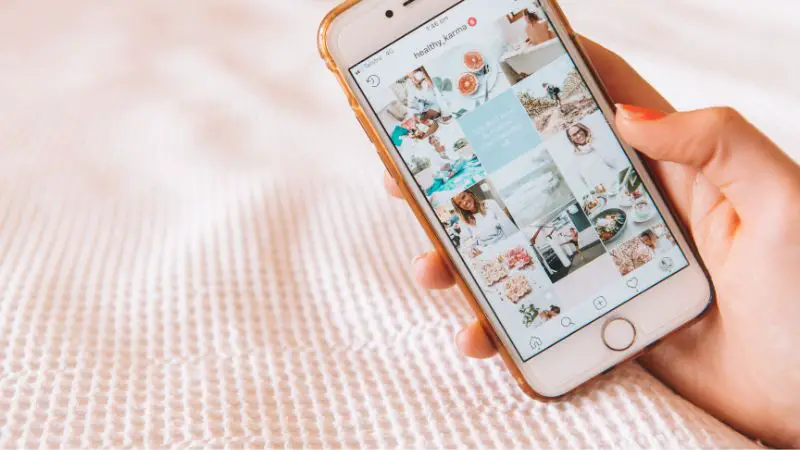 How to Follow Influencers on Amazon App
Amazon makes it very easy to find influencers on the Amazon app. The best and easiest way to find influencers on Amazon is by:
Typing in #IFoundItOnAmazon in the search bar
Clicking the #IFoundItOnAmazon banner that pops up
Once you click this banner at the top of the page, underneath the search bar but before all the search results, you'll then be able to see trending posts and influencer lists. You can also organize these ideas by category.
By scrolling through all of these ideas and lists, you can then find influencers who recommend products that you like. By clicking the ideas, you can see who created them. You can click the follow button immediately on their idea page, or you can click on their username.
Once you are taken to their own page, you can see all of the other content and ideas that they share. You can also choose to follow them there by clicking the follow button!
How to Follow Influencers on Amazon on PC
If you'd like to search and find various influencers on Amazon while on your computer, you can do this in the same way as you search for influencers on your phone through the Amazon app. You should:
Type in #IFoundItOnAmazon in the Amazon search bar
Click the #IFoundItOnAmazon banner that pops up
Much like with our mobile method, you will then be taken to another page that is full of content created by influencers. You can scroll through all of these ideas and narrow them down by categories.
Once you find a few ideas or pieces of content that you like, you can click on them. Here, you'll see all the recommended products, as well as the person who created this idea or list. You can follow them immediately or head over to their page and then click the follow button there!
How to Find Someone's Amazon Page
It can be a little difficult to find someone's Amazon page, especially if they don't have a unique name to search for. Therefore, it's often best to head over to the #IFoundItOnAmazon page and see if you can find an influencer you like there!
Unfortunately, Amazon does not have an area on its website where you can easily search for influencers by name.
Other times, you might see influencers on social media share their Amazon page, where they recommend products and ideas. By clicking the link they provide, you will be taken to their Amazon page where you can then follow them. This is the easiest way to do this!
How to Find Who You Follow on Amazon
It can be a bit difficult to find all of the influencers and brands you follow on Amazon — and, as a result, you can often forget about those that you followed. However, you can easily check out who you followed on Amazon in the past by:
Hovering over Accounts & Lists
Clicking Recommendations in the dropdown menu
Clicking Your Profile in
Finding the Who You Follow section of your profile
Here, you'll be able to see all of the influencers and brands that you follow.
How to Unfollow Someone on Amazon
If you would like to unfollow someone on Amazon, this also can be easily done! All you have to do is go to the person's profile. This can be done quickly by using the method above to find all of the people and brands that you follow.
Once you've found the person that you would like to unfollow, you can click on the person. You will then see that you are following them. Click this "Following" button to then unfollow. It's as simple as that!
How Do I Find Someone's Amazon Storefronts?
If a person's Amazon Storefront has a unique name, you might be able to find their storefront by searching for it through Amazon's search bar. However, this also might not work. It's, unfortunately, very difficult to find someone's Amazon storefront through Amazon.
Amazon doesn't have a great and easy way to search for people's storefronts, which is disappointing. Therefore, the best way to really find someone's storefronts is by seeing if they share a link to it on their other social media platforms.
Often, influencers will have an available link to their Amazon Storefront on their social media accounts. It should be easy enough to find!
How to Find Amazon Influencers
When it comes to finding Amazon influencers, there are 5 great tips to follow:
Go to #IFoundItOnAmazon
Search for influencers in the categories you most shop for
Check out trending posts
Click the See More button to see more unique categories to choose from
Check back often to see what people recommend
Conclusion
If you're looking to follow influencers on Amazon, you can scroll through content and ideas that influencers create by heading to Amazon's #IFoundItOnAmazon page. Once on this page, you can then click on ideas and lists that you like. Then, you can follow the person who made it!