You may already know that Walmart offers a money transfer service called Walmart2Walmart, but you might want to know how much you can send.
Don't worry; we are going to find out right now!
How Much Can You Send Walmart to Walmart?
The maximum amount you can send through Walmart to Walmart is $2,500 per day. However, if you live in Arizona, the maximum allowed is $499 each day. If you do decide to send $2,500 in one transaction, Walmart will charge you an extra $16 service fee.
---
KEY TAKEAWAYS
Walmart to Walmart is an in-store money transfer service.
You can send up to $2,500 through Walmart to Walmart per day.
Sending money with Walmart to Walmart requires a government-issued ID.
---
Do you want to learn how Walmart2Walmart works? Or how much will it cost, and if you can transfer online?
Read on to learn the answer to these questions.
How Does Walmart to Walmart Work?
Firstly, you'll want to understand how Walmart to Walmart actually works!
The money transfer service provided by Walmart aims to help its customers send money to trusted friends and family members without the need for a bank account.
Because Walmart strives for customer satisfaction, it has made the process of sending through Walmart2Walmart incredibly easy!
Now, here's how it works:
Head into a Walmart store.
Go to the customer service desk or money services center.
Show your government-issued ID.
Select the Walmart where you want to send the money.
Then, enter the personal information of the recipient.
Use your debit card, credit card, or cash to send the money and pay Walmart's fee.
After that, the money will arrive at its destination in as little as 10 minutes.
Also, make sure you send the reference number you got on your receipt to the receiver, as they will need the 9-digit number, as well as their ID, to collect the money.
Walmart2Walmart is one of the most user-friendly transfer services available today. And it's actually one of the most affordable as well!
How Much Is the Walmart to Walmart Money Transfer Fee?
Now, one of the great features of the Walmart to Walmart transfer service is the comparably small fee required to send money.
So, here is how much it will cost to transfer money with Walmart to Walmart:
$4 – Up to $50
$8 – From $51 up to $1,000
$16 – From $1,001 up to $2,500
Can You Do Walmart to Walmart Money Transfer Online?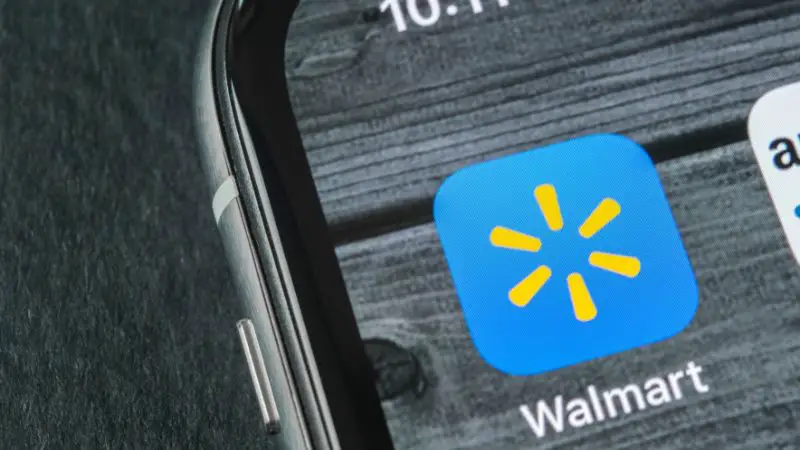 While you can transfer money online through the Walmart app or Walmart.com, it won't technically be through Walmart2Walmart.
If you use Walmart's online transfer services, the money will be sent through MoneyGram, as opposed to Walmart2Walmart.
Because Walmart works hand in hand with MoneyGram, you won't even notice that you are working with another company.
Also, the process is extremely user-friendly, and you can either send money to another bank account, mobile wallet, or be picked up at a Walmart money center.
Can You Send Money from Walmart to Walmart Without an ID?
Lastly, another great thing about Walmart2Walmart is that there are very few rules and requirements for sending money, but you certainly will need an ID.
So, you cannot send or receive money with Walmart to Walmart without a valid government-issued ID.
Conclusion
You can send up to $2,500 per day with the Walmart to Walmart money transfer service.
As well, you should know that you absolutely need a government-issued ID in order to send and receive money with Walmart to Walmart.
Other than that, all you need to do is navigate into a Walmart store and find the money center or customer service desk.
And finally, follow the prompts from the associate to enter the personal information of the recipient and send money to whoever you want! It will arrive in as little as 10 minutes.