Amazon Air is a cargo airline that transports Amazon packages. On average, Amazon Air flies 140 flights per day.
Over the years, Amazon has kept increasing the number of planes they have to meet demand. So, you might begin to wonder how many planes Amazon has. Find the update here!
How Many Planes Does Amazon Have?
Amazon Air has 86 planes with 79 active services. Seven Boeing planes are currently parked. Among the active airplanes are 50 Boeing 767, 25 Boeing 737, and 4 ATR 42/72. Today, Amazon Air is the world's fifth-largest dedicated cargo fleet.
 Continue reading to learn about Amazon's fleet of airplanes, including the types of airplanes and how they operate.
Does Amazon Have Their Own Planes?
In a press release by the Vice President of Amazon Global Air, Amazon confirmed that it has its own cargo planes for transporting goods. Amazon planes are used to transport items such as food, books, and electronics to various locations across the world.
But why does Amazon own its own planes? They have their own planes for two reasons: first, they can deliver products faster than any other method, and second, they are used for deliveries across the country.
Amazon Air uses a mix of leased and self-purchased aircraft to deliver packages more efficiently.
Most planes leased are from Atlas Air Worldwide Holdings and Air Transport Services Group. Amazon has also purchased some of its planes from airlines like Delta Airlines and  WestJet Airlines.
You can easily recognize Amazon Air planes by their design—a blue and white themed plane with the inscription "Prime Air" on it.
What Does Amazon Use Airplanes For?
Amazon's airplanes are used for different purposes. Some of these purposes are highlighted below:
Amazon uses airplanes to transport goods and deliver packages.
Their airplanes provide the best possible delivery speed over longer distances and achieve customer satisfaction.
Amazon uses airplanes to help reduce its carbon footprint. Using their airplanes instead of commercial airlines can keep costs down while still delivering packages quickly and efficiently.
It's cheaper for Amazon to own its airplanes for logistics purposes than to employ the services of other companies.
It allows the company to manage its operations effectively and efficiently.
Does Amazon Air Fly With Passengers?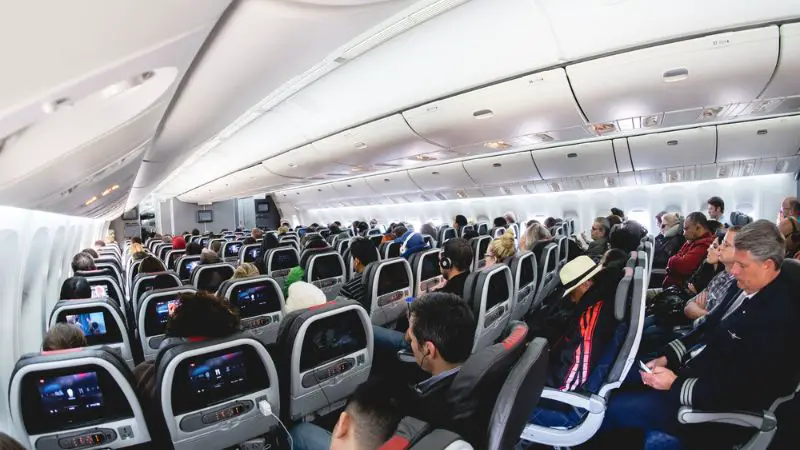 Amazon Air was established exclusively for transporting Amazon packages. The airline's primary function is to enable the company to satisfy its customers and make deliveries across the world by air.
The airline contracted the services of Aurigny Air Services, an all-economy passenger configuration, for an aircraft previously set up to transport passengers. Amazon then went on to convert the passenger plane to a freighter.
Generally, Amazon airplanes are purchased planes converted from passenger to cargo planes. So, no, Amazon Air does not fly with passengers.
Usually, the only passengers on board are a handful of crew members.
What Types of Airplanes Does Amazon Have?
Amazon has passenger jets that have been converted solely for cargo purposes. Amazon is famous for using Boeing aircraft.
Amazon owns 50 Boeing 767-300ER (BDSF/BCF), representing two-thirds of its air cargo planes. The rest include 25 Boeing 737 aircraft.
Amazon introduced four ATR 42/72 aircraft to its fleet last year, with the recently added ATR 72-500 turboprops operated by contracted partners.
In total, Amazon has 86 planes, with only 79 currently active. The parked planes consist of 2 Boeing 737 and 5 Boeing 767.
With these aircraft, Amazon can deliver packages to countries and destinations in most places around the world.
Will Amazon Have More Airplanes in the Future?
Amazon doesn't manufacture planes, but structures are being put in place by the company to acquire more aircraft in the near future to expand its cargo services.
Amazon plans to purchase more aircraft in anticipation of increased demand for goods in 2023. This is to ensure and enable speedy package delivery and maximum customer satisfaction.
Amazon currently has 79 active airplanes but plans to expand its fleet in 2023 by making deals with airlines and purchasing newer aircraft to replace old ones. Amazon Air is currently the fifth-largest dedicated cargo fleet in the world.
While they have 86 total airplanes, it is still a far cry from the fleet of popular logistics companies like FedEx and UPS. FedEx has about 679 planes, while UPS owns, leases, or charters about 572 aircraft.
Conclusion
Amazon has a total of 86 planes in [year]. Of these 86 planes, 79 airplanes are in active service. This consists of 50 Boeing 767, 25 Boeing 737, and 4 ATR 42/72. Amazon Air has seven parked Boeing planes, and there are plans to add more aircraft to the fleet.