Amazon is a multinational e-commerce company that offers online services to billions of people around the globe. And to do this, Amazon Warehouse hires as many staff as possible to meet the demand. But what about felons? Does Amazon Warehouse hire interested applicants who are felons?
Does Amazon Warehouse Hire Felons?
Amazon Warehouse hires felons. But whether or not Amazon will employ an offender will depend on the type of felony conviction and when it happened. If a felon only has minor felony charges with none within the last seven years, they have a higher chance of being hired at Amazon.
Amazon does not discriminate against applicants based on their past criminal records. Keep reading to find out if Amazon is felon friendly, whether or not Amazon runs extensive background checks on them, whether or not felons working at Amazon can be promoted, and more.
What Kind of Felons Does Amazon Warehouse Hire?
Can you work at Amazon with a felony? Amazon can hire you to work at the warehouse if you have a criminal record. While this job offer is initially temporary, it can easily become full-time employment.
However, some Amazon warehouse locations may have exceptions for hiring certain types of felons. This is because while Amazon does not discriminate against felons, certain offenses show violent tendencies that can't be ignored at work.  Some of these felonies include:
Theft
Sexual abuse
Murder
Voluntary manslaughter
Fraud
High level of drug abuse and other aggravated felonies.
It's important to remember that this is not an official position from Amazon, so hiring preferences for felons will vary across warehouses. Felons who can prove that these crimes are not characteristic of who they are often get hired.
Another factor influencing whether or not Amazon hires you as a felon is when the conviction happened and if there have been any repeat offenses.
You have a higher chance of getting a job at the Amazon warehouse if your charges are seven years or older. And for repeated offenders, the chances of getting an Amazon warehouse job are pretty low.
Does Amazon Do Background Checks for Warehouses?
Amazon does a background check for potential employees in their warehouses. So, if you are applying for a position at Amazon Warehouse, Amazon will subject you to a background check.
Because Amazon is a leading global e-commerce company that employs people from various sectors of society, the company uses a rather broad criminal background check.
While conducting background checks, Amazon looks into different areas. However, the three areas they are most focused on include:
Criminal history
Reference checks
Drug screening
Amazon will do these background checks before officially accepting your application at Amazon Warehouse, regardless of the post you are applying for. The background check results could take up to two weeks or less. If you pass the checks, Amazon will notify you via email.
The drug screening check is an essential background check for Amazon. After other background checks, Amazon will do this test for employees, especially when the job applicant has been identified as a potential hire or given a temporary offer.
If you don't pass your background checks or drug tests, Amazon may reject your application.
Also, if Amazon offered you a temporary offer of employment before the background check results were in and you failed, your Amazon warehouse manager may terminate your employment contract.
Is It Hard to Get a Job at Amazon Warehouse With a Felony?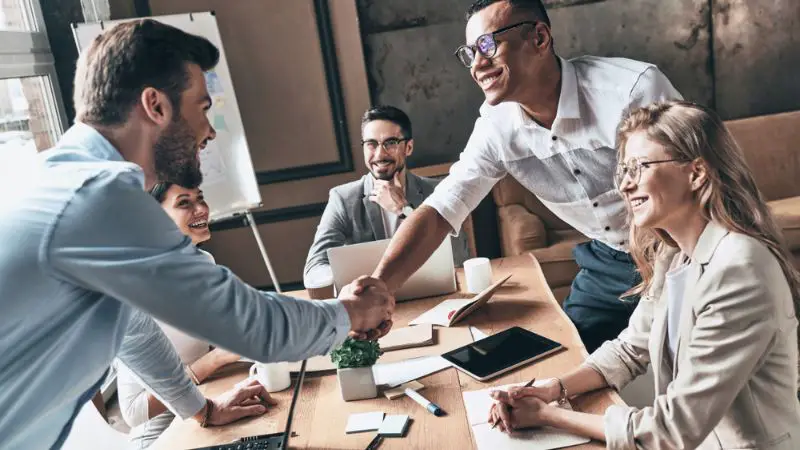 Amazon does not discriminate against felons. So, "will Amazon hire you if you have a record?"
It is not hard to land a job at an Amazon warehouse as a felon because Amazon remains committed to ensuring that a felony does not disqualify anyone from getting a job at Amazon.
There are no strict or complicated procedures for getting a job at Amazon Warehouse as a felon once you have completed and passed the Amazon Warehouse background checks.
If you're still having trouble finding an Amazon warehouse near you, or if you're unsure how to apply for a job at an Amazon warehouse, you can search for Amazon warehouse jobs near you on Amazon's website.
Here's a step-by-step guide on how to apply for a job at Amazon Warehouse, felon or not:
Create an account using your email address.
Select the "Apply" option beside the job you want to apply for;
Select "Start Application." You will be asked a few questions about your work experience.
Select "This job" for your preferred job.
Now click "Accept Offer." This is where you fill out a consent form for Amazon Warehouse to conduct a background check on you.
Once you pass the background check, you can choose a day for a 30-minute interview at Amazon Warehouse.
Select "Submit Application" to submit your application.
Do You Work on the Same Terms as Other Employees?
Amazon's "no discrimination" policy means that if an Amazon warehouse employs you as a felon, you will be under the same terms as other employees at the Amazon warehouse.
Felons are hired based on a temporary appointment, but Amazon does not treat felon employees differently. Both regular employees with no criminal record and felon-employees are treated equally under the same terms.
Can You Be Promoted at Amazon Warehouse as a Felon?
Amazon can promote you at the Amazon Warehouse as a felon. If Amazon hires a felon as a temporary employee, they almost always make the position permanent after a few months if the employee shows an outstanding work ethic.
From there, employees (felon or not) can get promotions within the same department or across departments in the warehouse. Promotion at Amazon is strictly based on merit, and deserving employees get promoted.
So, if you demonstrate exceptional work and character ethic, Amazon Warehouse will promote you from temporary to permanent staff. Beyond renewing your contract, you will be eligible for promotions and other workplace benefits Amazon offers its employees.
List of Other Warehouse Jobs That Hire Felons
Amazon is not the only company that offers felons employment opportunities. A host of other companies also employ felons. Below are other warehouse jobs that hire felons other than Amazon:
Target Distribution Center
Sysco
Walmart Distribution Center
PetSmart Distribution Center
Windows Foods
US Foods
Costco
Kroger
ShopRite
Whole Foods
PepsiCo
Chewy
Trader Joe's
United Supermarkets
Lowe's
Frito-Lay
Conclusion
Amazon Warehouse offers employment opportunities to applicants, including felons, because Amazon does not discriminate. However, Amazon may not hire felons convicted of grievous crimes that fail Amazon background checks or repeat offenders. If your last felony charge is more than seven years, you have a greater chance of getting hired.
Welcome to CompanyScouts! I am Jake, the founder of CompanyScouts. I hold an Msc in Economics and Business Administration. With a deep interest in the consumer segment, I strive to help people get to know their favorite companies even better.