Amazon sells over 12 million different types of products, and while the company has an excellent reputation for offering a variety of options within every category for various price points, some people still find it challenging to completely trust Amazon.
Amazon sells gold jewelry, bars, and coins within its millions of products, but does it sell real gold?
Does Amazon Sell Real Gold?
Amazon does sell real gold; it also sells fake gold. When searching Amazon's many products for certified gold jewelry, bars, or coins, it's important to do your research. Every product description should have the details necessary to ensure it is real gold.
Keep reading to find out everything you need to know about buying real gold on Amazon, including how to tell if it's real, the safest way to buy gold online, and a checklist to tick off before buying gold on Amazon!
How Can You Tell if Gold on Amazon Is Real?
Here's the thing, there is real gold and fake gold on Amazon, so in order to be able to tell if it's real gold, you'll need to do a little digging.
If you are looking to purchase gold coins or bars, you can tell if gold is real on Amazon by reading the item description and looking for a certification from a verified third party, the location of the mint, and the grader.
When it comes to jewelry, gold items such as chains or bracelets should have a Hallmark stamp with the carat count as well as a specific gold fineness number in order to ensure it is real gold. 
Is It Safe to Buy Gold From Amazon?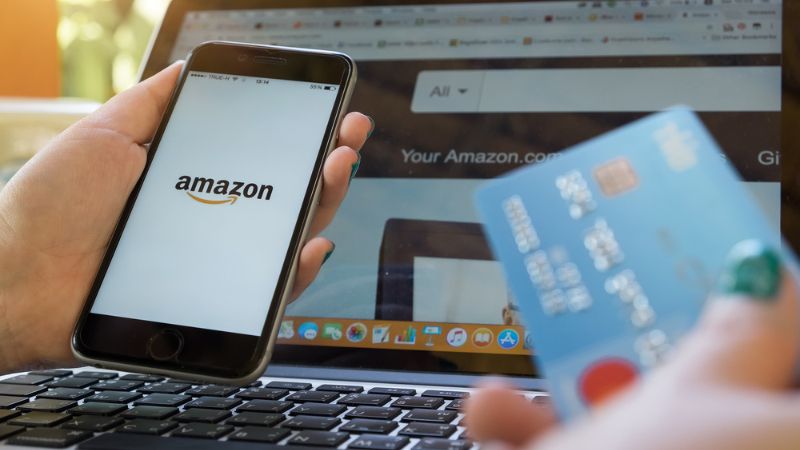 While it can be safe to buy gold from Amazon, you do have to have your wits about you. There are certainly third-party sellers on Amazon who are trying to sell plated gold for the price of solid gold, and you will need to ensure you make a purchase from a reputable seller before hitting "order now."
The good news is that Amazon always has your back. If an item is described as real gold and arrives as a fake, you will be able to send the gold item back to Amazon within 30 days for a full refund.
However, this process includes verifying the gold yourself once it has arrived, which can be tedious.
Are Amazon Gold Chains Real?
Once again, when it comes to Amazon gold chains, there are absolutely some that are real, and there are also some that are fake.
The best way to avoid getting scammed is to only purchase gold chains from a reputable seller with great reviews and that have a Hallmark stamp.
Is Amazon a Good Place to Buy Gold Chains?
Although it takes a little more research before you make your purchase, Amazon is actually a great place to buy gold chains.
Amazon has a large selection of real gold chains being sold at affordable prices, so you can always find exactly what you're looking for without breaking the bank.
Are There Fake Gold Coins on Amazon?
Unfortunately, there are several fake gold coins on Amazon. However, the good news is that there are a few simple ways to ensure they are real and authenticated in regard to gold coins.
All real gold coins should have a registration number that signifies it was certified and graded. This number can be found on the coin's plastic packaging, so it should be visible in any photo.
The seller should also list the registration number within the item's description. If you do not see a registration number, do not purchase that gold coin, as it may be fake.
Does Amazon Sell Real Jewelry?
Amazon absolutely does sell real jewelry, and it can be a great place to find the piece you are looking for at a reasonable price.
Some of the best and most trusted jewelry brands on Amazon include Amazon Collection, New World Diamonds, and Houston Diamond District.
Hopefully, you now have all the information you need to ensure you purchase real jewelry on Amazon. Remember, because several sellers are trying to get a high price for fake jewelry, you need to read reviews and ensure the gold jewelry has a Hallmark stamp before making your purchase.
What Is the Safest Way to Buy Gold Online?
The safest way to buy gold online is through a reputable dealer and to do your research before purchasing.
Whether you are opting for pure gold jewelry or gold bars or coins, there are several online options on Amazon and other companies to safely buy gold.
If you can't find what you are looking for on Amazon or simply want to compare quality and price, you should look at some of the industry's safest options for buying gold online: JM Bullion, Money Metal Exchanges, APMEX, and Golden Eagle Coins.
Checklist Before Buying Gold on Amazon
Before you buy gold on Amazon, there are specific factors you need to check to ensure you are buying real gold:
Reputable Dealer. On Amazon, there are millions of third-party sellers; read their reviews, descriptions, and return policies to make sure that their previous customers have received items made of pure gold and that there is no confusing fine print that may lead to a scam.
Certification. The certification can look slightly different depending on the gold item you wish to purchase. On jewelry, you need to see the Hallmark stamp, on gold coins, the registration number, and on gold bars, the mint location and grader.
Warranty. Most real gold items will come with a warranty. If you do not see one listed or the warranty does not ensure the gold is real, you should not buy that product.
Conclusion
You can find real gold on Amazon in 2022; however, there is also quite a bit of fake gold on Amazon. To safely purchase real gold on Amazon, ensure the dealer is reputable, the gold has certification from a third party, and that it comes with a warranty.
Welcome to CompanyScouts! I am Jake, the founder of CompanyScouts. I hold an Msc in Economics and Business Administration. With a deep interest in the consumer segment, I strive to help people get to know their favorite companies even better.