Are you wondering why Walmart self-checkout is card only?
If you noticed that you can no longer use cash at Walmart self-checkout and want to learn why and what options are available, this is the article you need!
Why Is Walmart Self-Checkout No Longer Taking Cash?
Walmart's self-checkout counters are no longer taking cash because of the coin and money shortage during the COVID-19 pandemic. However, it seems that Walmart is keeping the system in place as it saves the company money and effort as they don't have to stock the machines with cash.
---
KEY TAKEAWAYS
Originally, Walmart removed cash payments from self-checkout counters because of the coin shortage.
Now, Walmart self-checkout machines no longer accept cash to improve efficiency and save the company money.
You can still use cash payment at most cashier registers at Walmart.
---
In just a few minutes, you will understand the several reasons why Walmart self-checkouts no longer offer cash.
And whether or not Walmart will be completely cashless in the future!
1. Coin Shortage
The main reason why Walmart stopped allowing cash payments at self-checkout counters is because of the coin shortage that occurred during the pandemic.
During this time, it was simply too much work to try to stock the many self-checkout machines Walmart offers with enough change.
2. Minimize Effort
Now, even though the coin shortage is over, Walmart decided to keep the self-checkout machines cashless.
And there's a very simple explanation why: It saves a lot of effort! Walmart employees no longer have to stock or remove and count cash from the machines throughout the week.
Instead, the machine simply takes card payments which are automatically logged into the system.
3. Save Money
Although it might go without saying, saving time saves money!
Even though Walmart is one of the largest retailers in the world, they still need to worry about how much money they are spending.
Making self-checkout machines cashless means that Walmart does not have to pay their staff to restock the money and count the cash.
As well, people can move through self-checkout faster if it's card only. That means happier customers and, therefore, higher customer satisfaction.
Walmart Self-Checkout Payment Options
So, if most Walmart self-checkout stations are no longer accepting cash, how can you pay?
Here are the payment options available at self-checkout:
Debit Card
Credit Card
Walmart Gift Card
Walmart Visa Gift Cars
EBT Card
MoneyCard
Walmart Pay
As you can see, there is no shortage of options for payment at Walmart's self-checkout machines. You just can't use cash.
Do Walmart Cashiers Still Accept Cash?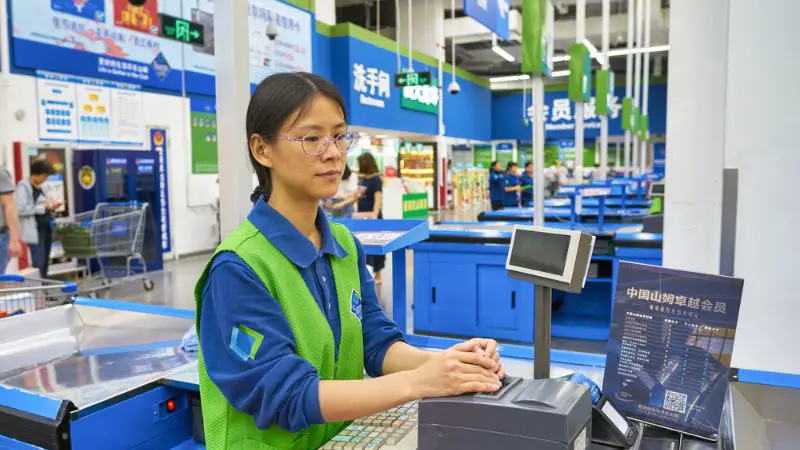 Next, you may be wondering if you can still pay with cash at a cashier's counter at Walmart.
The simple answer is yes; Walmart cashiers still accept cash. However, not all cashier counters at every store will.
Walmart has initiated a plan to create some cashier registers that are card-only.
By offering card-only lines, Walmart hopes to save money and time, as well as create a faster checkout experience for their customers.
Is Walmart Going Cashless in the Future?
Finally, as you notice Walmart's self-checkout and even some cashier register's going cashless, you are probably wondering if Walmart is on its way to going cashless.
As with any rumor, there is a lot of information circulating as to whether or not Walmart will go completely cashless in the future. Nonetheless, there is no true answer at the moment.
The bottom line is that no one actually knows if Walmart plans to go cashless anytime soon.
We'll all just have to wait and see what happens next!
Conclusion
Walmart changed its self-checkout machines from cash-accepting to cashless during the coin shortage of the pandemic.
But Walmart is keeping the machines cashless to save time, effort, and consequently money!
While you can still use cash at most (but not all) cashier counters at Walmart, some wonder if the company will eventually go completely cashless.
However, right now, no one knows whether Walmart will eliminate cash in their stores in the future.