Walmart offers grocery delivery, but who delivers groceries for Walmart?
If you want to find out what delivery service Walmart uses for groceries, this article is for you!
Who Delivers Walmart Groceries?
Walmart uses a third-party delivery service for its grocery orders. Who it uses changes from region to region, but the most common companies are Postmates, DoorDash, and Roadie. Walmart does not yet have its own delivery service for grocery deliveries.
---
KEY TAKEAWAYS
Walmart does not deliver its own groceries.
The company uses third-party delivery services to deliver grocery orders.
You can and should tip delivery drivers for Walmart groceries either when you place the order or with cash on arrival.
---
Do you want to know about the different delivery services Walmart uses to deliver its groceries?
Keep reading for everything you need to know, including if you can tip your driver.
1. Postmates
Postmates is one of the country's largest delivery service companies. It is available in 3,500 cities across all 50 states.
Walmart uses Postmates to deliver groceries because drivers are constantly available. It usually only takes Postmates an hour to make a delivery once the order is ready.
2. DoorDash
Although Postmates is expanding, DoorDash is available in far more locations. DoorDash operates in more than 7,000 cities and is often the only option in small cities or rural areas.
The average time for a DoorDash delivery is 40 minutes from the pickup time. This means that once your Walmart groceries are ready, you could have them in hand in a half hour!
3. Roadie
Roadie is another popular nationwide delivery service that Walmart uses to deliver its groceries.
While Roadie is available in all 50 states, it's not quite as widespread as the other companies on our list.
Deliveries from Roadie typically take around 2 hours.
Does Walmart Deliver Their Own Groceries?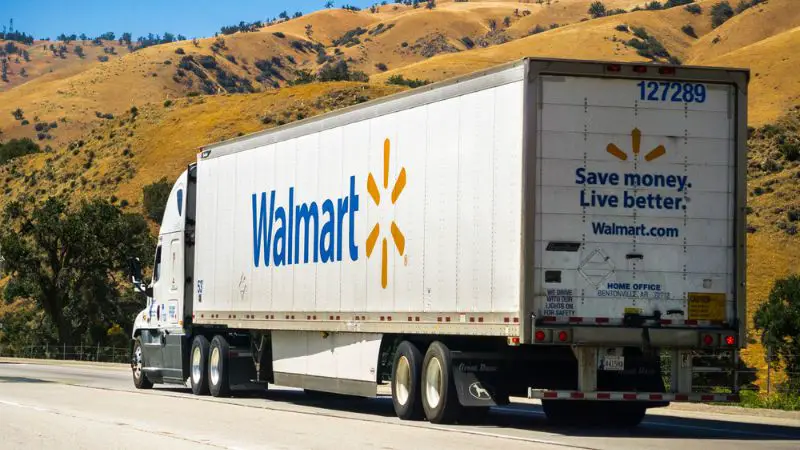 As you probably know, Walmart is one of the world's largest retailers.
And while the company has successfully sold in-store products and groceries for decades, when the delivery craze began a few years ago, Walmart realized it had to jump on board.
The conglomerate has thousands of tractor-trailer trucks that deliver their produce and products from warehouses to stores, but they do not have a service for at-home deliveries.
When Walmart started to offer an at-home grocery delivery service, they either needed to create their own delivery network or outsource the work.
A few years in, Walmart still does not deliver their own groceries; they only use third-party delivery services.
Why Does Walmart Use Third-Party Delivery Services for Groceries?
There is one thing that all third-party services, such as Roadie, Postmates, and DoorDash, have in common. Their staff is just people in the local area who signed up to drive for the company.
Because they don't have daily routes or schedules, employees opt in for specific jobs. This makes these third-party delivery services incredibly efficient and fast, which is one of the reasons Walmart uses them.
Another reason why Walmart uses third-party delivery services for groceries is that it is more cost-efficient than purchasing delivery trucks and hiring drivers.
It's important to understand that the driver who delivers your groceries, no matter which service they work for, does not work for Walmart. So, you can and should tip them!
You can add a tip on the Walmart app or Walmart.com when you complete your order, or you can keep it old school and just give the driver cash on arrival.
Conclusion
Walmart groceries are delivered by third-party services.
Different companies are used depending on the region you live in. These companies include DoorDash, Postmates, Roadie, and more.
Third-party delivery companies are the cheapest and most efficient option for Walmart's grocery delivery service.
You tip your delivery driver when you place your grocery order on the Walmart app or Walmart.com, or you can tip in cash when they arrive.