It's easy to get tired of reading tons of ebooks from your screen in today's digital world. And without a doubt, it's pretty challenging to navigate through a voluminous book. And this is where Audible Narration comes in. But what is Audible Narration on Kindle? Here's a full guide.
What Is Audible Narration?
Audible Narration is Amazon's audio version of ebooks, and it is a feature on Kindle that allows you to listen to audiobooks. Audible Narration is the same quality as regular audiobooks, allowing you to read and listen at the same time.
With the right audiobook reader, you can enjoy long reading sessions, develop your listening skills, and do other things simultaneously. Keep reading to see how to use Audible Narration on Kindle, how it differs from Audiobooks, and how you can get started.
Is Audible Narration Free?
Audible Narration is available for purchase on Kindle, and while the prices are affordable, they are not free. You can download and listen to a sample of a narrator's work before you decide if you want to buy the audiobook or not.
Usually, purchasing the ebook and the Audible Narration is the cheaper option. The offer to buy Audible Narration is not available for every book. The prices for each Audible Narration differ depending on factors like the popularity and genre of the book.
For instance, some narrations cost as little as $0.99, while others could be more expensive, costing as much as $12.99.
You can borrow and download books for free on Kindle Unlimited. However, you'll have to return the audiobook once you return the borrowed book. The usual charges will apply if you want to purchase the Audible Narration after borrowing it.
What Happens if You Add Audible Narration on Kindle?
When you add Audible Narration to Kindle, your devices will instantly sync and make your ebooks available for listening. So, you can now listen to your Audible Narration for ebooks on your Fire tablet or Kindle app on your Android and iOS device.
You can also choose to use the feature on the Kindle that lets you alternate between listening and reading. You can also read the ebook and listen to the narration simultaneously.
How Do I Use Kindle Audible Narration?
If you want to use Kindle Audible Narration, you may not know where to start. Using Kindle Audible Narration is pretty easy once you follow the right steps. This guide will help you get up and running with Kindle Audible Narration in no time.
Launch your Kindle app and sign in to your account
Select and open the ebook you want to read.
Tap the screen and find a tray down on the screen with the caption "Audible Narration."
Tap on it to commence downloading. And where it has been downloaded,
Click on the play icon to listen to and read the book.
The Audible Narration will start playing, and the words displayed will be highlighted for you to read along even as you listen. You can stop the audio and revert to reading only by tapping the screen's pause button.
What Is the Difference Between Audiobook and Audible Narration?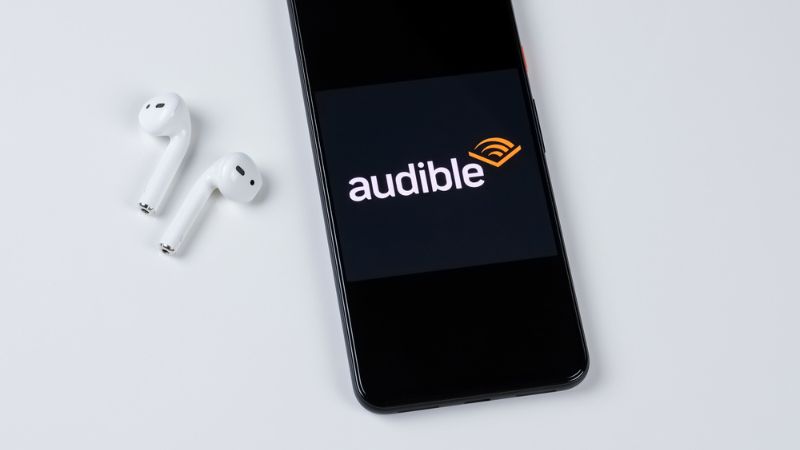 There's no difference between how an audiobook and an Audible Narration sound since these audio versions are narrated by audiobook narrators. So, Audible Narration is not a text-to-speech feature: it is an actual audiobook.
An Audible Narration (aka audiobook copy) is the audio version of Kindle books, while an audiobook is the audio version of any ebook. So, if you buy an audiobook and want to read along, you'll have to buy the ebook separately. And that could get pretty expensive.
However, this is quite different from Audible Narration. Buying a Kindle ebook with Audible Narration is cheaper than buying an audiobook alone. You can easily buy the Audible Narration for an ebook at a fraction of the cost of purchasing the audiobook separately on Audible without a separate Audible subscription.
Also, with Audible Narration, you can easily sync your reading and listening because you can use both the ebook and the audiobook simultaneously. So, you can go back and forth between listening and reading and pick up where you left off.
So, if you buy an audiobook from Audible and want to read and listen simultaneously, you'll have to buy the ebook separately and switch between apps to pause and play the audio.
But with Audible Narration, you can read your Kindle ebook and listen to the audiobook (Audible Narration) simultaneously and on the same screen.
What Does Audible Narration Sound Like?
Depending on the narrators, a single book can inspire a lot of emotion and creativity. Sometimes, a group of people works together to create ebook narrations with different diction and tones of the many characters in the book.
Sometimes, Audible Narrations can be robotic, too young, too old, inaudible, too over the top, or overly feminine. Some of the narrations sound like famous characters.
So, since different narrators read the ebooks, they could have varying sounds or effects. Usually, the author contracts a narrator for an Audible Narration.
How Can You Tell if a Book Has Audible Narration?
You may be curious if Audible Narration is available for all Kindle books. Not all Kindle ebooks are "Audible Ready." This means that you may not get Audible Narration for all Kindle ebooks.
Ebooks with a corresponding Audible Narration on the Kindle App will have a headphones icon in the upper-right corner of the book.
You can also tell if a book has Audible Narration by going to the Amazon matchmaker page. This will help you locate the matched edition of the ebook or audiobook you want to buy.
You can follow these steps to see if your Kindle ebook has an Audible Narration that matches it:
Go to Amazon Matchmaker.
Let Amazon Matchmaker browse through your Kindle collection.
Wait for the search to complete, and all matching audiobooks available for your Kindle ebooks have been displayed.
Tap the download icon to get the Audible Narration of your desired ebook.
Can I Listen to Kindle Books Without Audible Narration?
There are other great alternatives you can use to listen to Kindle books. The text-to-speech (TTS) feature is one great technology that helps you convert written text to audio format.
The text-to-speech feature is of great help in turning any Kindle book into audio, even in the absence of any audible companion. Loads of free text-to-speech tools are available on compatible devices like your PC, iPhone, and Android.
If you're using an Amazon smart speaker Echo device, Alexa can also help you to read out your Kindle books. Alexa allows you to listen to purchased, borrowed, or shared ebooks.
While all these are great options, they do not rank in the same category as a proper human narrator.
Conclusion
"Audible Narration" refers to the audio version of Kindle ebooks. This feature on the Amazon Kindle allows you to listen to audiobooks while you read along. Audible Narration is available at a discounted rate on Kindle, especially when you purchase both the ebook and the Audible Narration.
Welcome to CompanyScouts! I am Jake, the founder of CompanyScouts. I hold an Msc in Economics and Business Administration. With a deep interest in the consumer segment, I strive to help people get to know their favorite companies even better.