Amazon and eBay are e-commerce companies that have been around for many years. With Amazon dominating the e-commerce industry, it could try to acquire its rivals. This is why most people often wonder if eBay and Amazon is the same company. So, did Amazon buy eBay?
Does Amazon Own eBay?
Amazon does not own eBay, and there are no affiliations between the two online retailers. Both eBay and Amazon are well-known competitors in the e-commerce industry.  While there are rumors that Amazon would acquire eBay, Amazon has not publicly stated that it has any immediate plans to do so.
There are so many similarities between eBay and Amazon that it is easy to think they are related. If your ebay order arrived in an Amazon box, you might be wondering who currently owns eBay and if Amazon can fulfill eBay orders. Keep reading to find out important facts.
Who Owns eBay?
eBay was founded by French businessman Pierre Omidyar and launched the business in 1995. Through his holding company, Omidyar Network LLC, he holds the majority of the voting stock in eBay Inc.
Pierre is currently the largest insider shareholder with about 5% of eBay. His shares are worth $1.5 billion, and he still holds a seat on eBay's board of directors.
Why Did My eBay Order Come in an Amazon Box?
Sometimes, buyers who made purchases from eBay stores may receive a package packed and dispatched by Amazon. Of course, this makes it even more difficult to believe that these two organizations are unrelated.
If this has happened to you, there is a simple explanation. When this happens, the seller is the reason why your eBay order arrived in an Amazon box, not any interaction between the two companies.
Your eBay order can come in an Amazon box if the eBay seller you ordered the item from is engaging in a practice known as Amazon to eBay arbitrage. This simply means that an eBay seller discovered a product advertised on Amazon, listed it on eBay at a price higher than on Amazon, and sold it to you, pocketing the difference as profit.
So, when you ordered on eBay, the seller purchased it from Amazon and entered your address for delivery instead of their own.
Another reason your eBay order can arrive in an Amazon package is if the eBay seller operates two online storefronts (Amazon and eBay) but uses Amazon for fulfillment and delivery.
Are Amazon and eBay Associated in Any Way?
Amazon and eBay are not associated in any way. While these companies might appear similar, on a closer look, you will discover numerous differences between the two companies.
The primary distinction between Amazon and eBay is that sellers on Amazon sell goods at set prices, whereas sellers on eBay can either offer goods at fixed prices or put them up for auction. On eBay, bidders can compete for goods, and the item goes to the highest bidder.
Generally, eBay is an excellent platform for buying used items, while Amazon is the go-to place for purchasing new items. This does not mean that eBay does not sell new items or that Amazon does not offer used products.
Can Amazon Fulfill eBay Orders?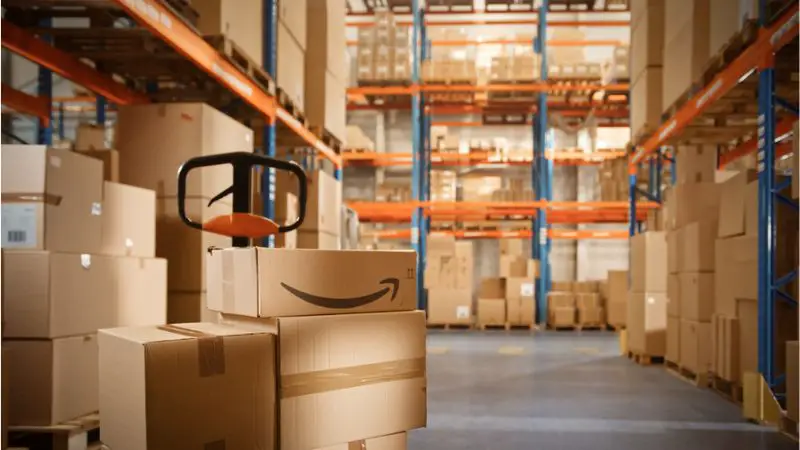 Yes, Amazon can fulfill eBay orders. In Seller Central, Amazon offers its sellers the option to choose Fulfillment by Amazon (FBA) multi-channel fulfillment. This is not just for Amazon retailers; eBay sellers can also use Amazon FBA.
ECommerce professionals can use the FBA solution to complete eBay orders as it enables them to use Amazon's fulfillment centers for both their Amazon orders and orders from websites other than eBay and Amazon. eBay sellers can use this because eBay cannot fulfill customer orders.
Is Amazon Bigger Than eBay?
Even though eBay is older than Amazon, Amazon remains bigger than eBay by every measure. The size of Amazon's business dwarfs that of eBay in terms of sales and revenue. And Amazon's higher forward price-to-earnings (forward P/E) indicates an even more possibility for expansion.
With approximately 310 million active users worldwide, Amazon dominates the retail business, compared to eBay's 180 million members. Compared to eBay, Amazon has a market that is nearly 1.5 times larger, which is a significant difference.
With this market size, Amazon achieves tremendous revenue leads that surpass eBay, Walmart, and Alibaba, making it the largest retail sector in the world.
Are Amazon and eBay Competitors?
Amazon has proven to be the most significant competitor to eBay and other top e-commerce industry names. However, eBay does not come close to being a threat to Amazon.
Amazon has surpassed its counterparts in every possible way. More sellers are moving from eBay to Amazon to increase sales and reach a wider audience. While eBay refers to its business as a multi-seller platform, Amazon refers to its business as an open marketplace.
Although they don't operate in polar opposite fashions, you can say that they function in very different ways. Most people are unaware of what transpired over time, if a potential conflict of interest existed between them, or whether they were even connected in the beginning.
Why Did Amazon Not Buy eBay?
There are no verified rumors that Amazon or other businesses are attempting to acquire eBay. Even though eBay is a separate corporation, it has recently sold off a few of its operations.
The sale of eBay Classifieds to Adevinta for $9.2 billion in July 2020, for instance, is the most prominent deal. Additionally, in November 2015, a Consortium purchased eBay Enterprise for $925 million.
Due to these sales, eBay may consider other offers in the future. Amazon is still expanding as eBay confronts more difficulties, so Amazon may not look to acquire eBay as they are still rivals. Moreover, Amazon is more of a retail store, while eBay is more of an auction house, so their business models are different.
Amazon hasn't officially announced any plans to acquire eBay. If Amazon plans to acquire eBay, it may not be made public until the deal is finally closed. Currently, Amazon has not spoken about buying eBay, nor has eBay talked about selling or partnering with Amazon.
Conclusion
Amazon does not own eBay, and Amazon has not announced any intentions of buying eBay. There is no connection between Amazon and eBay, and they are known rivals in the e-commerce industry. So, while there are rumors that Amazon will buy eBay, this is yet to happen.
Welcome to CompanyScouts! I am Jake, the founder of CompanyScouts. I hold an Msc in Economics and Business Administration. With a deep interest in the consumer segment, I strive to help people get to know their favorite companies even better.